If there is a film that sums up the start of summer better than Jaws, I've never heard of it. Whatever it did or didn't do to backside of the the film industry forever aside, it is one of the greatest films ever made.
Jaws gets a lot of shit from cinephiles for "ruining" movies, though it's a bit of a falsehood, and it only "ruined" movies for a very small percentage of people. It wasn't even the real model for huge high concept openings -- Universal actually cut the amount of theaters running the film from 900 to 500 to generate a bigger buzz as people waited in line and were shut out, ensuring tons of free publicity as newscasts around the country rushed to cover the long lines.
There are many ways to take it: a pure a thriller; as a wild dramatic ride; as a horror film; allegory of class warfare, or political upheaval -- whatever you want to apply to the film basically works. It's a film about struggle against ever escalating odds, so everything under the sun adheres to it with a little massaging.
The thriller and horror aspects are fine, but the way I like to read it is as a simple essay of the shifting tenuousness of power, or manhood if you want to call it that. It's the interpersonal connections and disconnections between Brody, the Mayor, Hooper, Quint and the shark, the rise and fall of their fortunes and glory, and balls, with every Bill Butler frame, Verna Feilds cut and John Williams orchestral swell that keep me coming back to the film year after year.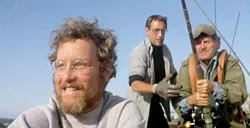 When Jaws starts out, we find ourselves on the quiet little New England island called Amity at the end of spring. The college kids from Connecticut and Massachusetts are there, taking advantage of empty beach houses with empty, roommateless rooms, but not much else is going on. Soon, we meet the sleek, efficient menace that is Jaws -- or, actually, in a stroke of unbelievable luck, we don't -- as Chrissy Watkins (Susan Backlinie) goes nude bathing and is eaten alive while her drunken suitor passes out on the beach.
Early the next morning, we meet Amity's Chief of Police, Martin Brody (Roy Scheider), and his wife as they wake up to a beautiful New England morning. Brody is an affable guy, a native New Yorker, which usually carries with it a certain street-wise swagger (as we saw earlier in The French Connection), but Brody seems to keep it in his back pocket, so useless is it in this sleepy backwater where nothing happens. You don't need much besides a uniform to keep this town in order.
As Brody heads into work and makes the gruesome discovery of Chrissy Watkins' body, we see the man come alive. Though somewhat skittish when confronted with the chewed up remains, Brody earns his title -- Chief -- as he hurries off to close the beach to stop bathers and swimmers from further injury.
On whose authority? His fucking own, that's whose.
No, of course it's not that simple. Small town politics actually rival big city politics in bureaucratic entanglements. The Chief is pegged back in his efforts just short of getting there by the town's overzealous leader, Mayor Vaughan (Murray Hamilton in the Goddamn sexiest sports jacket ever) and his feeble cronies, the coroner (Dr. Robert Nevin) and the publisher of the town paper, (Jaws' screenwriter, Carl Gottleib).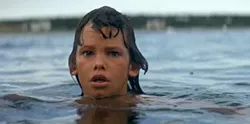 Helpless and neutered of his power, Brody must sit and watch, unable to do anything as the big shark gets hungry again, and comes to nibble on Alex Kitner (Jeffrey Voorhees). It's the Mayor now, whose power is pegged back in the aftermath, but Brody's power returns only in a limited way. The beach will closed, but only for 24 hours. Brody protests, but, again, is helpless. And again, it's deadly.
Jaws was the first summer blockbuster, and it's also the pinnacle of the genre, if you grant the summer blockbuster to be a genre (we might as well at this point). As such, it's a great tradition movie for the 4th of July, a day which is the centerpiece of the film's action: not only the most important financial weekend of the year for the entire island of Amity, but the greatest threat to the families at the center of film -- Brody's, Mayor Vaughan's especially. The shark lays down a challenge to Brody in this scene: you're powerless to catch me, so I'll just eat freely, and maybe I'll even get to your kid.
Enter Matt Hooper (Richard Dreyfus), whose life is based around studying sharks, a man firm in his superior knowledge of sharks and of boating, a man who is no stranger to the water, or to island life -- a powerful man, but intellectually more than physically. He's more sure of himself here than Brody, or anyone else we've met so far, and so we begin to put our faith in him and his luxurious fisherman's beard. As he steps ashore, though, his power is threatened by his first meeting, in the shape of tall, wide Yankee fishermen, Ben Gardner (Craig Kingsbury) and the lot, whose taunts Hooper is all too used to, and as such are brushed off easily.
It's the mark of a strong personality that the sting can be so easily brushed off by Hooper. Brody's position as an outsider on the island, as a man who is scared of boats, who will never belong truly, never be an Islander, is not as easily brushed off. Even when he says, "I'm the chief of police, I can do anything I want," there isn't natural force behind it, there is liquor there behind it to make him follow through on the statement. Sober, surrounded by Islander's, he begs, but defers. He toes the line, and it gets people killed.
Ben Gardner, meanwhile, loses his own dick measuring contest with the great white. (Dangerous game to measure dicks with a shark, remember: they have two of them.) The Mayor relents now, finally. The beaches are closed, the summer over. The silly bastards caught the wrong shark. There is still a hell of a shark out there who needs to be caught. Brody has the will to do it, but not the means. Hooper has the knowledge, but not the strength. It's a sharker they need and get in Quint (Robert Shaw), a real man if we've ever seen one. Tall, thick, jagged, with immense, strong hands that have been leathered over from a lifetime of hauling nets.
Quint is everything we expect when we think of a man, of power, and he instantly commands of the film with the largess of his expansive personality, and the breadth of his experience and intuition. He is a real old time sharker and mariner, as much Santiago and Ahab as He Man and GI Joe, the kind of man they don't make anymore because there is nothing left for him to do. He cuts his boat, the Orca, through the water as a lord, drawing the shark deeper into his trap.
And then. And then. Even the viewer is flummoxed when we come to realize that the shark is bigger than the boat. Quint and his massive shoulders are now just as powerless as the narrow shoulders Brody and Hooper hunch. The shark has all the juice here, and more, he knows it: it's him drawing the Orca in his trap, and a damn good trap, too. He let's them play with him, thinking they're winning, until it's time for him to start playing with them. He cripples their boat, slowly, over several timed-out attacks. Two penises and a set of balls that weigh more than our erstwhile heroes combined. He is now lord. He always was.
Hooper in the cage is too little too late. The cage crumbles beneath the pressure of his jaws like butter, like Alex Kitner's little leg bones or Chrissy Watkins' torso.
Quint is a little tougher to take, but he is taken in a gurgling, bloody mess and devoured. Truly no shakin', no tenderizin' -- down he goes.
One more left. The one with the little pistol that tickles when he fires it.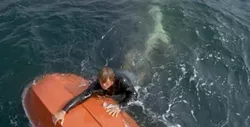 But this is the moment we've been waiting for since the beginning, since Mayor Vaughan clipped Brody's nuts in the first act. The Mayor took the Chief's power, then Hooper usurped the scrap of power he had left. Hooper's power was over run by Quint's command of the power, and finally, the shark, the shark, the invisible menace who had all the power all along, until the Chief is left alone. And he acts. Swiftly, off the cuff, but with meaning, with gathering power. He finds his New York Swagger, and he needs it here to take out the shark and grab the power.
And he does. (Of course he does, but still.)
The power is his, finally. He is the Chief.
Can he keep it?
The event, as with all Wednesday Night Pitcher Shows, is free and takes place picnic-style on the Enzian's front lawn. There will be contests and prizes (Jaws blurays and, I believe, Jell-o shots) and lots of beer on tap and food to eat at Eden Bar.