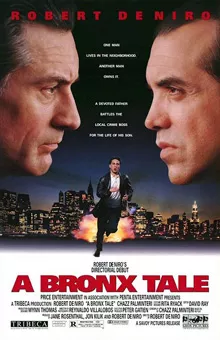 I know, I know. This is the Orlando Weekly, not New York Weekly.
But still, it's been an unbearably slow week as far as film items are concerned, and the thing that's been going through my head the most is Time Out New York's "100 Greatest NY Films" piece that came out this week.
It's an all right list of films, but a lot of it rubs me the wrong way for some reason. Time Out didn't seem to consider the reality of growing up in New York as an important part of the City's boldness (perhaps because some of the contributors live there now, but didn't grow up in New York?), leading to insane issues like Escape from New York making the list while A Bronx Tale was omitted -- a mortal sin if there ever was one.
So I decided to sit and think about my own top 10, which is mostly rated by realism from my lower middle class, outer borough Irish/Italian perspective, not necessarily the "greatest" films, or of course Godfather I/II or Manhattan would be at the top. And then it became a top 12.
1A) A Bronx Tale (1993) Robert De Niro
1B) Goodfellas (1990) Martin Scorsese
-Don't be a rat, the most vitally important and thoroughly damaging NYC lesson there is. The way both films play with the seduction of a certain lifestyle that seems to envelope you at a yong age is also a thing to behold, and both films go about it differently: Sonny says don't be like me, but C wants to anyway because he likes most of what he sees and they keep a lot of what he woulnd't like -- the hits, the shakedowns, the retribution -- hidden from him; on the other side, the Cicero crew draws a young Henry in to do work for them, blowing up cabs and and getting drinks, before it explodes in a cloud of cocaine and paranoia. It's not like that anymore, but in the 80s you looked up to every guy in a sharp suit because they walked with a swagger you wanted, but it's a swagger you have to take, not one you can just wish for.
02) Death of a Salesman (1985) Volker Schlondorff
-It's true that a lot of dreams are made in New York, but most dreams die a slow, tortured death that end with a whimper.
03) Dog Day Afternoon (1975) Sidney Lumet
-The real robbery was very close to where I lived most of my life, and the movie was shot near the house I was born in (though, five years before I was actually born). None of that means anything to you of course, but what I'm saying is that they didn't take the Brooklyn out of the film. Like Manhattan is a character in Taxi Driver, Brooklyn is a character in Dog Day Afternoon.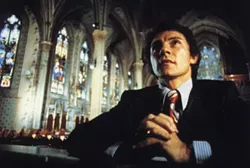 04A) Who's That Knocking at my Door (1967) Martin Scorsese
04B) Mean Streets (1973) Martin Scorsese
-Catholic guilt is a terribly real and damaging thing for some people (and you don't have to change all that much about it when talking about Jewish guilt). It makes you bound to certain ways, and gets you stuck in situations where you want to scream but you can't get out of. Also I grew up with every asshole in these movies.
05) Kids (1995) Larry Clark
-This one too. You don't need ghosts or devils to make a horror film, you just need a bunch of asshole kids. Kids is the most realistic horror film I've ever experienced because everyone I had stopped being friends with about a year before it came out fit nicely into one of the characters in this film. I still can't watch it.
06) Wall Street (1987) Oliver Stone
-Some of those assholes went on to emulate this movie.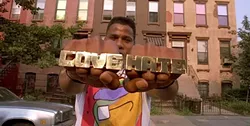 07) Do the Right Thing (1989) Spike Lee
-Race relations are complicated in the extreme, especially as neighborhood boundaries disappear in the outer boroughs and people must adjust.
08) Italianamerican (1974) Martin Scorsese
-It's just like sitting in my Nanna Anna's living room in Bensonhurst with my cousins, listening to her and her friends talk in gibberish Italian while my Grandpa Rocky pretended to be asleep in the other room. Like the film, she'd tell the craziest stories ever while making the greatest meatballs ever.
09) Radio Days (1987) Woody Allen
-Not everything about NYC is horrible and mob or AIDS related, and Woody knows better than anyone.
10) On the Waterfront (1954) Elia Kazan
-Like I said, ratting on your friends is a complicated matter. Sometimes it has to be done, but it doesn't feel good.
I feel somewhat guilty for leaving some films off the list: Taking of the Pelham 1-2-3, since it was my grandfather's favorite film (to the point where my mom and uncle hate it), and it certainly scores realism from the police side, but not so much from the robbery side; Faces, because it's just a brilliant film, though you could pick a number of Cassavettes for this list; Two Lovers, which transplants Dostoyevsky's White Nights wonderfully into Sheepshead Bay, but was fucked over by Joaquin Phoenix's ridiculous I'm Still Here Letterman stunt; The Family Business, Sidney Lumet's generational family crime drama, which is the film I think of when I think of 80s New York; and Half Nelson, and The Lords of Flatbush, and Lonesome, and Sophie's Choice, and Angels with Dirty Faces, and Quiet City, and The Little Fugitive and The Squid and the Whale, even Coming to America has its realist slap in the face on top of the overall fantasy.
Of course the stupid thing about lists is that they don't really encourage debate, they just encourage "your list is shit, now look at my list!" and someone reading this will say that same exact thing to me. Feel free to leave your list in the comments, or just call me an asshole in the comments and be done with it.