For the last few years I've been doing a yearly piece trying to forecast the upcoming foreign films we might be talking about at some point. It's tough work and it tends to be something I put months of thought into, whittling it down to 30 or so films to write about before I'm confronted with the unfortunate reality that I only have 1,000 words of space and have to give each film about 150-200 words of attention.
Usually, anyway, they have no release dates in North America at the time I'm writing about them, which only compounds the problem. Some still have not been released here, in fact, but this week there was news regarding a few of them, so I thought I'd go back and see what's what.
The first bit of news comes from this January's piece, when I wrote about the South Korean film Bleak Night. As of this weekend, it's up on Netflix in HD. (Update: there is an issue with the subtitles apparently. There aren't any. I had an un-helpful conversation with a Netflix employee last night who said the company didn't send them any -- the subtitles exist. The film has played in North America with English subtitles. As a sidenote, I also told him the cropped out subtitles on Let the Right One In made the film unwatchable, and he suggested I watch the remake instead. <3 Netflix.)
The second bit of news comes from the January, 2011 piece, where I wrote about Pen-ek Ratanaruang's Headshot. Kino Lorber announced the film yesterday as part of its October slate (10/2, on Blu+DVD).
Also, one film I meant to write about but ran out of space to do so, The Forgiveness of Blood (by Maria Full of Grace director, Joshua Marston), was also announced yesterday as part of Criterion's October slate.
So what else?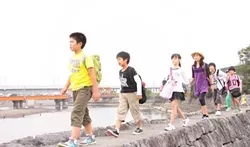 -Well, Hirokazu Koreeda's I Wish played the Florida Film Festival earlier this year, and should be out on DVD/Blu later this year. I can't recommend this film enough.
-The documentary Jiro Dreams of Sushi played the Florida Film Festival and had a split-bill release at the Enzian earlier this year, and comes out on disc on July 24th.
-Michel Gondry's The We and the I was not a science fiction film, it turns out, but it does take place entirely on a city bus. The film screened at Cannes to mixed reviews and should be out in limited release later this year.
-Im Sang-soo's The Housemaid is out on disc and on Netflix in HD.
-Tran Ahn Hung's adaptation of Haruki Murakami's Norwegian Wood was released on DVD recently. It's a hard story to adapt. Hung pulls it off barely.
-Apichatpong Weerasethakul's Uncle Boonmee is out on disc and on Netflix in HD, and the companion short film can be found on Mubi.
-Abbas Kiarostami's Certified Copy has been released by Criterion, and can be found on Netflix in HD as well.
-Wong Kar Wai's The Grandmaster will potentially be released in Hong Kong later this year. Who knows what it'll make it over here. Who knows if they even finished shooting it. Wong is... unpredictable.