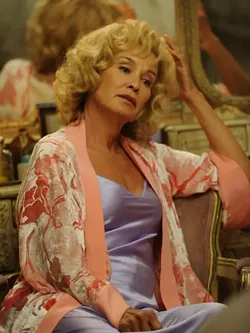 So it looks as if the decision to submit 
American Horror Story
in the "Miniseries or Movie" Emmy category paid off. Or did it?
Going solely by the numbers, it's a big win. AHS tied Mad Men for the most nominations: 17 in all. The most expected nod was Jessica Lange's, for Best Supporting Actress; what wasn't so easy to foresee was that she'd be going up against her own castmate, Frances Conroy. Normally, that sort of intra-show competition means a cancelling out of votes, but Lange is so widely recognized as the program's chief asset that she'll probably take the award nonetheless.
Yet in the other categories, AHS has a steeper uphill climb, thanks mostly to the presence of HBO's Game Change all over the ballot. Forget about Connie Britton's Vivien Harmon beating out Julianne Moore's Sarah Palin: Showy political impersonations are what the miniseries format is all about.
And while asking to be classified as a miniseries instead of a series certainly helped the show rack up noms it wouldn't have earned otherwise -- that Drama category is just too competitive -- it still didn't place in any of the contests related to writing or directing.
Co-creator Ryan Murphy seemed to backhandedly acknowledge as much when he told The Hollywood Reporter he was deeply satisfied to see the show recognized for "how great the production values were, how wonderful the acting was, how it was really trying to make a social statement about the world that we live in today."
Of course, shutting AHS out of the writing and directing competitions means that nobody on the voting panel found those statements all that compelling. And that's a shame. The series was not only the best but one of the most relevant programs I saw all last year, offering pithy observations on our current era of downward mobility.
 While it's wonderful to see a horror series tying 
Mad Men
as the most-nominated offering of the year -- a great development for the genre, as Murphy observes -- restricting the honors to the technical and performance realms simultaneously furthers the ghettoization of supernatural programming as a mere playground for a lot of good-looking hugger-mugger. The idea that a haunted-house story could have as much to say about our American condition as a political "satire" is apparently still years beyond Emmy's ken.
So it is that the vast majority of AHS's noms were in categories like Art Direction and Hairstyling, perpetuating the show's unfair reputation as a bunch of campy creaking-door clichés strung together by some glorified set dressers.
And anyway, that whole "miniseries" business bugs me on a basic honesty level. Call me old-fashioned, but a miniseries is a program of finite length and focus. It's a TV movie blown up to Peter Jackson proportions. Murphy and crew apparently felt AHS qualified as a miniseries because it's going to have new characters and a new plotline every season; that's fun and exciting for the medium of TV, but it does not a miniseries make. Much of the cast (including Lange) will come back for Season Two, and viewers will be enticed to tune in by the plaudits the name American Horror Story has already earned -- plaudits that include these very Emmy awards. A real miniseries doesn't have that sort of brand recognition to rely on.
And really, if 
AHS
is going to be ignored in the categories that count on a thematic level, I'd much rather it get elbowed out by
Don Draper
than by
Steve Schmidt
. It's just more reassuring to get the cold shoulder from a better class of monster.