The Dark Knight Rises
-- Everybody in the business of making and exhibiting motion pictures is so afraid of the expected behemoth that is 
TDKR
(reviewed this week
) that not a single other new film is opening in Orlando this weekend. There isn't even some underpublicized indie slipping into Regal Winter Park Village for a doomed one-week run; as for the Enzian up the road, they're holding to the fabulously successful and rapturously reviewed 
Moonrise Kingdom
for another seven days. But they also have a few special programming treats going on this weekend, which could make for suitable bat-alternatives should that last 
Dark Knight
ticket somehow slip through your grasp: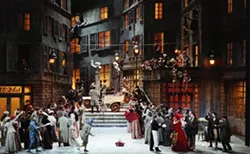 La Boheme -- Saturday morning at 11, the Enzian's "Opera on the Big Screen" offers up a straight-outta-Barcelona production of the Puccini classic. Hey, remember that part in Batman Begins where Bruce got freaked out by Die Fledermaus and the whole family had to go outside so Mom and Dad could get plugged? There's your opera connection right there! Nifty piggyback programming, art-house peeps!
The Gold Rush -- The 11 a.m. Sunday slot in Enzian's ongoing KidFest is given over to Charlie Chaplin's 1925 comedy about a solitary prospector forced to interact with some "burly characters" in Alaska. Hmmm  The Dark Knight Rises also depicts an overmatched loner going up against a burly antagonist. Coincidence? I say thee nay!
Jason and the Argonauts -- And finally, Sunday's KidFest program ends with a 1:15 p.m. lesson in the stop-motion wizardry of Ray Harryhausen, as applied to Greek mythology in 1963's sword-and-sorcery epic. The skeleton army is nearly as fearsome as as Bane's battalion of the starving homeless! (Good thing that's the last of the weekend options; these analogies were starting to border on the tasteless.)