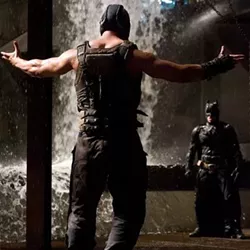 Just over a week ago, I was planning to blog about the rampant misreadings I was certain critics were going to make of The Dark Knight Rises. When the perceived political stance of the film got pushed off the opinion pages by the horrific events in Aurora, I figured I'd instead have to defend its content against the inevitable charges that it had somehow inspired Suspect A's murderous rampage (no mean feat for a movie that had opened mere minutes before he started shooting).
But in the ensuing seven days, something funny took place: That seemingly unavoidable conversation never happened.
Oh, sure, a handful of pundits with airtime and pages to fill have wondered, weakly, if "violent movies like TDKR" could in some way be responsible for putting ideas in the heads of our nation's psychotics. The Hollywood Reporter even devoted a special issue to it, with a bunch of ass-covering essays simultaneously acknowledging that film can provide a blueprint for the crazies among us, but that we shouldn't let that knowledge impede this art form/industry that we love so much.
(In the role of truly outraged moralist, they cast -- get this -- Peter Bogdanovich -- whose senile ramblings about The Awful Pictures They're Making Today actually included the sentence "We had a murder in our family when Dorothy was killed, and I can't begin to describe how horrible it is." Even more horrible, one presumes, than a dirty old man treating a doomed young woman like a blow-up doll before finally settling down to domestic bliss with her even younger sister. Ah, "family.")
But such flashes of misplaced indignation notwithstanding, there just hasn't been the sort of hysterical, protracted finger-pointing that accompanied earlier tragedies like the Columbine shootings. Nobody in America is seriously trying to make Batman into Marilyn Manson. In fact, the usually surefire "blame the culture" strategy is getting even less traction than the ideas of toughening gun laws and increasing treatment of the mentally ill, which are by now only mentioned in order to point out that they won't be considered.
This is all a far cry from the early 1990s, when the in-theater shootings that accompanied the rise of b-boy cinema led to all manner of panicked commentary about artistic content -- much of it shot through with race-based and ageist hysteria. In contrast, nobody but a few neo-Puritan nutcases on the far right is really going to blame a movie like The Dark Knight Rises for anything like Aurora -- for the simple reason that too many people of all ages and colors like those movies and pay good money to see them.
If you get far enough into the mainstream in this country, you're in no genuine danger of being castigated as a dark and destructive force. When we discuss the events of last week, it isn't some niche, ethnic subculture we're talking about: It's the backbone of one of the biggest industries on the planet.  And that sort of commercial pull just puts you off-limits.
For example, consider what would happen if another Altamont happened tomorrow, and some deranged fan got killed during a Rolling Stones concert. Absolutely no one would blame the Stones, because in the many decades since Gimme Shelter, they've become the top-earning mascots of the very same social stratum that used to hate and fear them. But if a similar calamity befell, say, Slipknot, the calls for a ban would be heard far and wide. To put it in the form of a simple litmus test, if your band's T-shirts can only be found in Hot Topic, you're always one controversy away from cultural excommunication; if your stuff is in Target as well, you're in the clear.
(This is the same reason that football fans can tear up entire city blocks with postgame riots, and nobody ever frets about the sport being a "negative influence." Negative influences don't get endorsement contracts.)
So we have zero chance of Batman being turned into a pariah by opinion leaders and politicos who are paid-up members of his fan club. During the 2008 campaign, John McCain attempted to humanize himself by telling reporters how much he identified with the Darknight Detective; on the other side of the aisle, Sen. Patrick Leahy is so bat-crazy he's wormed his way into three of his hero's movies. These are not men who are about to grab pitchforks and torches; had their schedules permitted, they could have been part of that opening-night audience, too.
And that's almost cause for relief. For somebody like me, who grew up loving comics at a time when polite society considered them some form of mental pollutant, it should be sweet comfort indeed to know that superheroes now have less to fear from an association with the worst mass shooting in U.S. history than they once did from a connection with juvenile delinquency. But putting aside the baby-boomer reassurance for a second, a different worry emerges:
What happens to art that not as many people like?
What if the next (God forbid) shooting is in a theater that's showing some obscure indie flick  -- a film that has a real point to make about armed mayhem, but which doesn't have worldwide brand recognition and consumer goodwill to sustain it? Is the maker of that movie going to bear the brunt of the mass frustration we were unwilling to take out on the Cash-Cow Crusader? What if that next concert stabbing isn't in a Stones parking lot, but at a gig by some new group whose antisocial pose is as alien and discomfiting to folks of my age and (don't laugh) social standing as Jagger was to Dean Martin in 1965? Isn't it all but assured that we're going to need a scapegoat of some kind, as long as we (rightfully or not) keep protecting Our Stuff?
It's inevitable unless we start having those debates about gun control and mental-health care I mentioned earlier. Because if we remain unwilling to focus on the methods of murder, and on practical tactics for preventing it, then by the process of elimination, we're going to have to find somebody to blame. The cold, hard truth -- that crazy people, when left unchecked, can do some crazy shit -- just does not offer the requisite catharsis. There's going to be a witch hunt sooner or later.  Because as Dylan once said, when you've got all those knives and forks, you're going to have to cut something.