Every 10 years dating back to 1952, the British Film Institute's official magazine, Sight & Sound, issues a challenge worldwide to filmmakers and critics: give us your top 10 films of all time, and they have.
Over the years, it has become widely regarded as one of the finest curated lists of "best" films (though, I find the They Shoot Pictures, Don't They?'s 1000 film list to be a little more useful overall).
For many decades now, Citizen Kane has been top of the list, as it is on the TSPDT list, which includes Sight & Sound's poll in its collation).
Starting this afternoon, Sight & Sound will slowly unveil the top films of the 2012 poll on their Twitter account (@SightSoundmag), under the hashtag #sightsoundpoll.
The last list, done in 2002, the top ten looked as follows:
01: Citizen Kane - Orson Welles (1941)

02: Vertigo - Alfred Hitchcock (1958)

03: Rules of the Game - Jean Renoir (1939)

04a: The Godfather - Francis Ford Coppola (1972)

04b: The Godfather II - Francis Ford Coppola (1974)

05: Tokyo Story - Yasujirô Ozu (1953)

06: 2001: A Space Odyssey - Stanley Kubrick (1968)

07: Battleship Potemkin - Sergei Eisenstein (1925)

08: Sunrise - F.W. Murnau (1927)

09: 8 1/2 - Federico Fellini (1963)

10: Singin' in the Rain - Stanley Donan, Gene Kelly (1952)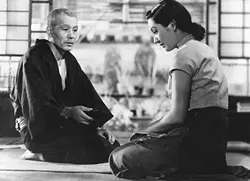 I'd be shocked if there is much change in the list. Citizen Kane will likely retain its top spot, as it has for years, and Singin' in the Rain probably won't be able to hold on. The Godfather presents a problem, since they've outlawed voting for multiple films in one block, (though I think they should make an exception for The Godfather I and II since they're inseparable).
Ebert has already made his 2012 list available on his blog, and Citizen Kane is on it, though he does lists alphabetically these days. He made a somewhat shocking (but correct, in my opinion) inclusion of Terrence Malick's The Tree of Life, though I doubt it'll crack into the top 10. With any luck, it'll be my own favorite, Ingmar Bergman's Fanny and Alexander rounding out the top 10 this decade, unless it's just The Godfather spreading out into two spots that changes the list. Should be interesting to see the entire 50 film list though.
EDIT, 1:53pm
So, I was wrong. The list changed a lot. Even the top spot (which I disagree with, but it's not like I'm a noteworthy critic or anything).
01: Vertigo - Alfred Hitchcock (1958)

02: Citizen Kane - Orson Welles (1941)

03: Tokyo Story - Yasujirô Ozu (1953)

04: Rules of the Game - Jean Renoir (1939)

05: Sunrise - F.W. Murnau (1927)

06: 2001: A Space Odyssey - Stanley Kubrick (1968)

07: The Searchers - John Ford (1956)

08: Man with a Movie Camera - Dziga Vertov (1929)

09: Passion of Joan of Arc - Carl Th. Dreyer (1928)

10: 8 1/2 - Federico Fellini (1963)
Here, too, is the director's final list:
01: Tokyo Story - Yasujirô Ozu(1953)

02a: 2001: A Space Odyssey - Stanley Kubrick (1968)

02b: Citizen Kane - Orson Welles (1941)

04: 8 1/2 - Federico Fellini (1963)

05: Taxi Driver - Martin Scorsese (1980)

06: Apocalypse Now - Francis Ford Coppola (1979)

07a: The Godfather - Francis Ford Coppola (1972)

07b: Vertigo - Alfred Hitchcock (1958)

09: Mirror - Andrei Tarkovsky (1974)

10: Bicycle Thieves - Vittorio De Sica (1948)