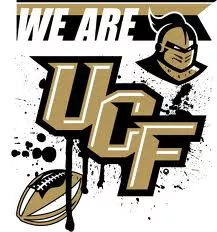 Embossed on the cover of each 2012 UCF Football Yearbook is one word which rings loudly in Coach George O'Leary's ear.
It reads, "Finish."
Something his Knights had trouble with last season. A stepping stone to propel this team to the next level.
"When you look at games, [losing] six games by seven points or less, and four of those games it's on the last series offensively or defensively," O'Leary says, "that's nine or 10 wins. You've got to get that done."
Expectations rose for O'Leary's Knights after a 2010 season which included a school-record 11 wins, a Conference USA Championship, C-USA Freshman of the Year honors for quarterback Jeff Godfrey, and a thunderous victory over Georgia in the Autozone Liberty Bowl. The Knights couldn't capitalize on their potential in 2011, sputtering to a final 5-7 record, thanks in part to excruciating last-minute defeats to teams like Brigham Young and Southern Mississippi.
But where his team faltered in crunch time last year, O'Leary believes the pieces are in place to succeed in 2012. He even compares this squad to that vaulted 2010 team, citing the 21 returning senior players as a strong foundation to build on throughout the season.
"These kids have played a lot of football for us," O'Leary says. "And I think they understand what it takes to win, what they should doing on the field and off the field, and I think they've done a good job of monitoring the young players to date that are arriving. They've taken ownership of this football team, and that's what you want."
Godfrey, after flirting with a transfer from the Knights' program, returns to the roster in 2012 as well, but at the wide receiver position, after O'Leary committed to starting redshirt sophomore Blake Bortle at quarterback this season. Bortle saw good playing time in the ten games he played last year, throwing for 958 yards and 6 touchdowns, and O'Leary expects his numbers will grow with threats like running backs  on the field.
"He obviously has the tools you're looking for to lead the football team, and I think he's fortunate to have some pretty good skill kids around him, from running backs to receivers, so that it's not all on his shoulders," O'Leary says. "I do think he's improved his poise with the team, and it's obvious to me when he gets in the huddle that there's a respect there for him from his teammates."
On Godfrey's development at wide receiver, O'Leary adds, with a twinkle in his eye. "[Godfrey] has really looked outstanding at receiver, he really has. He's a great player in space, and he can really make people miss out there."
The team has talent, and the team has depth. Offensive lineman Chris Martin has been moved to tight end, emphasizing the Knights' size upfront, along with Georgia Tech transfer Phil Smith competing for the starting right tackle position. Redshirt seniors Latavius Murray and Brynn Harvey highlight a stable of running backs vying for meaningful touches this year.
That's not the looming cloud over Bright House Stadium. It's whether a team that turns the ball over twelve times a season and cannot produce their own takeaways – as with O'Leary's 2011 squad – can generate any momentum. It's also whether the program can overturn its fresh NCAA one-year postseason bowl ban, issued to UCF's football and basketball teams for recruiting violaions.
"Hopefully the appeal goes through, and we win that, because I don't think kids should be punished for what happened when they really had nothing to do with it," O'Leary says. "Because I'm always going to fight for our football team, and fight for the players that deserve the reward that a good season will give them."
It's whether this team has the toughness mentally to persevere and perform. But O'Leary believes the intangibles that dogged his team last year will ultimately turn this squad around. Senior-led film sessions after games, the wealth of incoming players and loaded veteran roster, and the collective ownership of this Knights team can help navigate 2012.
Possibly even "finish" the year on a high note.
For a gallery of photos from UCF Football's media day, click here.