It's kind of hard to get away from the Olympics right now, even for movie writers. The Olympics are, in some ways, more cinematic than movies are. Nerves, last gasp thrills and lots (and lots) of tears. All the things we love about movies. I was shocked this week to read that women and gay men are ogling the bare chested swimmers.  Surely that steals integrity away from the sport? Leering at well-toned, athletic bodies is wrong no matter the sport.
Maybe the Olympics is also a chance to just think about something else. I noticed the other day that though my movie watching has actually increased in the last month, I haven't been to the theater since Aurora happened. Which is absurd. Maybe it's not connected. But, true as well: I have not yet seen The Dark Knight Rises, surely making me the only person in the world who writes about film who hasn't seen it. I'll probably just double it up with ParaNorman next week.
Of course we got the Sight & Sound Critics Poll this week as well, and you already know Vertigo knocked off Citizen Kane for first overall (Tokyo Story took tops in the Director's Poll). Not something I agree with, but who can take anything away from either film? Lists are meaningless anyway.
News, links, etc:
-Here is a longread about Danny Boyle, post-Olympic Opening Ceremony. (Guardian)
-ESPN's 30 for 30 doc series is now available on Netflix. June 17th, 1994 and The Two Escobars are particular favorites of mine. (@ESPN_Films)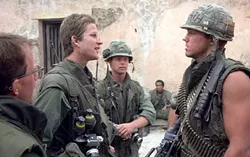 -I'm really glad Matthew Modine's Full Metal Jacket Diary is finally coming out for the iPad, but, man, most of us don't own iPads. (FMJ Diary)
-Paul Thomas Anderson is being met with "blowback" by The Weinstein Company over his plea to show The Master in its full 70mm film print on as many screens as possible. The large format costs a lot of money to strike and ship, and there is a dwindling number of theaters capable of handling 70mm. I don't believe Orlando has a theater capable of playing true 70mm prints, just IMAX and 4k DCP. (Cigarettes and Red Vines)
-The actor and crooner Tony Martin was the last known living actor to work with the Marx Brothers until he died earlier this week. (Billboard)
-The Locarno Film Festival, introducing Europe to American Indies. (IndieWire)
-Kim Novak on why Vertigo works. (BFI)
-Five things you might not know about Vertigo that you probably know. (Playlist)
-While we're on Hitch, Tippi Hedron did a press conference at the TCA's this week to talk about the prison Hitchcock kept her in during his obsession with her, as the BBC-HBO film The Girl starts its publicity push (you might remember it was one of the films we wrote about in our annual forecast article in January). (THR)
-I'm glad they're doing more restoration work on the newly restored version of Leone's Once Upon a Time in America, but dammit I want to see it before I die. (Guardian)
-Carl Sagan and Ann Druyan were not too happy with an early draft of the Contact screenplay. (i09)
-Here's something: While The Dark Knight Rises owned all at box offices around the work this weekend, it didn't in South Korea, where The Thieves is poised to be the next big thing as it closes in on 10 million admissions. God, I love the way Korea tracks their box office. I don't care about dollars, I care about knowing admissions. (Modern Korean Cinema)
Short films:
-Glory at Sea, by Court 13 and Benh Zeitlin, whose Beasts of the Southern Wild is out now. You'll see a lot in common with Beasts here. (Wholphin)
-Pest by Nooree Kim. Very funny and very, very strange. (Cartoon Brew)
Trailers, posters, etc:
-Some more Wreck-It-Ralph artwork and story bits. Maybe you don't want to spoil stuff so close to its release though? (First Showing)
-The Paperboy. Sadly, no peeing. (IndieWire)
-Nobody Walks, which mixes all of my critical kryptonites together: Lena Dunham, John Krasinski and a little boy who looks like Olivia Thirlby. Though I do like Ry Russo-Young. (Apple)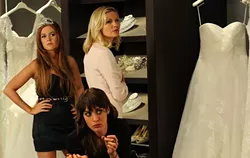 -Will female audiences go as wild for Bachelorette as they did for Bridesmaids? I tend to doubt it, but watch the red band trailer and decide for yourself. (Funny or Die)
-About Cherry, with Ashley Hinslow playing a girl getting into porn, trying to figure out what the means to her other life. Could actually be a great indie, like the old Sundance kind of film before it started churning out polished crowd pleasers. James Franco, Lilli Taylor and Dev Patel also star. (IndieWire)
-Chow Yun Fat in The Last Tycoon. (Twitch)
-Dangerous Liasons, Hur Jin-ho's new film with Zhang Ziyi and Cecelia Cheung. These Korean-Chinese tag team films usually never work for me. (IndieWire)
-Lastly, a heads up: the trailer for Kathryn Bigelow's Zero. Dark. Thirty. should be online sometime monday on EW.