The crowd during the Protomen Saturday night
Since it's inception on the Rhyme Torrents forum in 2007 I have been a follower of Nerdapalooza. In fact its east coast start at a tiny café in Gainesville is what made me think moving to "Mousetown" that year might not be so bad after all.
From those modest beginnings the music/nerd culture festival has grown by leaps and bounds every year. This year was no exception. I have to say that Nerdapalooza 2012 has been my favorite to date. Like many, I was wary of the venue change to the Beacham. There was less room for vendors and sponsors and the lines to get in the first two days were killer. Where the Beacham really owned was on the stage. The bands sounded better than ever, had professional lighting, and were kept to a tight schedule ensuring that everyone got to play and the audience wasn't dead on their feet by the time the headliners came on.
This year was also a bitter-sweet one with the loss of Local Big Shot, Triforce Mike Pandel. There were many band and audience tributes all through the weekend. He had touched so many lives at Nerdapalooza throughout the years that every band tribute was heart-felt and honest.
Bit Brigade Playing Mega Man II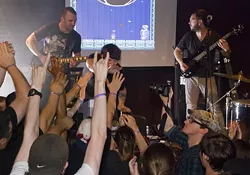 Sci Fried's Triforce Mike tribute
Amanda Lepre of Descendants of Erdrick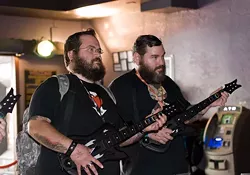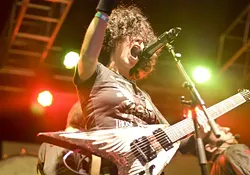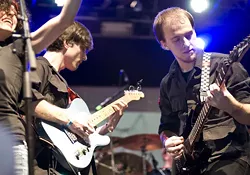 The Protomen Perform Queen
Kilroy amping up the crowd for a Triforce Mike tribute during Queen set