Tianna Madison lives in Sanford (image from her Facebook page).
Here are the athletes on the U.S. Olympic team who live (or lived) in the Orlando area:
1. Tianna Madison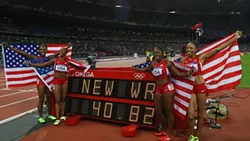 Track and field runner Tianna Madison lives in Sanford.
2. David Oliver
Hurdler David Oliver lives in Orlando (Kissimmee, according to Wikipedia).
3. Tyson Gay
Tyson Gay, track and field runner, lives in Clermont.
4. Phil Dalhausser
Beach volleyball player Phil Dalhausser lives in Ventura, Calif., now, but he attended UCF.
5. Hunter Kemper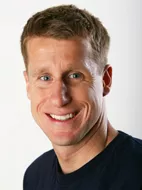 Triathlete Hunter Kemper lives in Longwood (although these days, he calls Colorado Springs home).
Did we miss anyone? Let us know in the comments.
UPDATE:
Reader J.C. Carnahan emailed us to send us more details about U.S. Olympic athletes with ties to the Orlando area.
Erin,

I saw your post tonight about local athletes competing in this year's OIympic games and wanted to pass along a few extra names

- Sarah Bateman of Lake Brantley High School represented Iceland in swimming.

- Hunter Kemper of Lake Brantley HIgh School competed in his fourth Olympic triathlon. I don't believe there are many, if any, other athletes to have taken part in all four triathlons since 2000.

- Jennifer Barringer Simpson of Oviedo High School competed in the 1500m.

- Brittany Viola of Lake Highland Prep competed as part of the diving team. She is the daughter of MLB pitcher Frank Viola.

- Phil Dalhausser of UCF was unsuccessful at defending the beach volleyball title he and Todd Rogers won at the 2008 games.
Thanks for the additional info, J.C.!