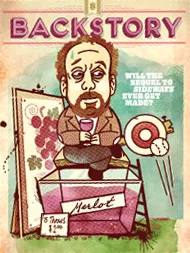 Instead of a preamble this week, I offer a plea:
SUPPORT THIS GUY! Former Creative Screenwriting editor Jeff Goldsmith has a new project out, the bi-monthly iPad screenwriting magazine, Backstory.
The first issue, containing full screenplays by Richard Kelly and Rex Pickett, is free. Single issues are $4.99 and yearly subs are $24.99.
I know, I know -- lately, the internet has been transformed from a free haven of porn and complaining about movies into an endless stream of pleas to kickstart this, and crowd source that -- and it's terribly annoying, I agree. I find there is very little of interest to bother kickstarting. BUT -- Goldsmith isn't asking for funding. He spent his own money launching this, and that should be refreshing these days. This is a dream turned into business that hopefully can be sustainable, not a dream waiting for a sugar daddy. It's supportable. It's not whining, begging or asking for tips.
I know also that most of us don't own iPads. I don't. I complained about it last Sunday with the Full Metal Jacket Diary. But a desktop edition coming soon.
News, links, etc:
-Carl Sagan's message to future Mars explorers: "whatever the reason you're on Mars is, I'm glad you're there. And I wish I was with you." (Brain Pickings)
-Speaking of aliens, the heightened charm of ALF is that he's obviously a goddamn puppet. It was always weird when they had the guy in the ALF suit walking around because it obviously wasn't as puppet. (First Showing)
-Laika, the stop-motion company behind Coraline and ParaNorman, are shaking things up in the world of animation (though not when it comes to stereotypical fat kids, grumble grumble). (NY Times)
-Melissa Leo loses role in Catching Fire, plays "oh, who's that" game. My eyes. They are fucking broken from rolling and vomiting out more rolleyes. Not everyone can afford to launch their own look-at-me ad campaigns so we know who they are, Melissa. (Moviefone)
-The winners at the Locarno Film Festival. (THR)
-A brief peek into the day-to-day life of animators at the Disney Animation Studios in the summer of 1942 as the anti-Nazi propaganda film Education for Death was being made. (Cartoon Brew)
-What's Roger Avary up to since getting out of jail? (IndieWire)
-Pixar is shedding talented directors and animators, like Doug Sweetland and Lou Romano, lately, and Brave co-director Brenda Chapman appears to be the latest out the door to LucasFilm. Hardly a surprise after she was given the shaft on Brave for a more action-oriented director, but should we be worried? (Pixar Planet)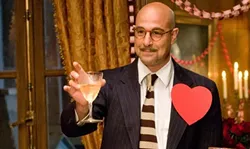 -Stanley Tucci got married. I missed my window. Dammit, Tuccinator, why you gotta do me like that? (THR)
-David Prowse, the actor in the Darth Vader suit, speaks about Star Wars and upsetting Lucas. (Moviefone)
-Twilight Time announced their November and December slate this week, including Otto Peminger's Bonjour Tristesse with Deborah Kerr, David Niven and a pre-Breathless Jean Seberg. (Blu-ray.com)
-A little inside baseball about Clint Eastwood's Trouble with the Curve, seemingly a rebuke to Moneyball's stats-all-the-time way of going about it and a little bit of a tribute to the salty character of the old-timers. No matter how good this is, it'll never be the best baseball scout movie in a world where Albert Brooks' The Scout exists. (THR)
-A good look at the VGB-6OL from Robot and Frank, opening the Enzian on August 31st. (Tumblr)
-I would certainly pay to see a spin off of Idiocracy, the most underrated film of all time. Especially if it's about President Camacho, who I hope is number 45. (AV Club)
-Scorsese on set over the years, from Mean Streets to Hugo. I want a framed version of that Hugo picture. (Imgur)
-One of ParaNorman's silicone butts. (@ParaNorman)
-I wish we got stuff like this ParaNorman mystery box. (Neatorama)
-Might as well overload on ParaNorman. Meet the head character designer, Heidi Smith. (Cartoon Brew)
Short films:
-Subway Thoughts, a series of shorts by Kurtis Scott. (KurtToons)
-A first look at the new Pixar short, Partysaurus Rex. (EW)
-Also a new still from Disney's Paperman. (Facebook)
Trailers, posters, etc:
-The first trailer for Walter Salles's On the Road, with Garret Hedlund, Sam Reilly, Kirsten Dunst and Kristen Stewart. I bet the producers want to put her name as small as possible about now, but by some Cannes accounts she's pretty good and it's Sam Reilly who sticks out like a sore thumb. Am I the only one who actually likes her more after the cheating scandal? An odd occurrence, since cheating really sucks, but the way she's getting beaten up by the press really sucks too. I bite my lip in solidarity, Kristen! (Deadline)
-Finally a subtitled trailer for Goro Miyazaki's From Up on a Poppy Hill, adapted by Hayao Miyazaki. Comes out next spring because they're wasting a bunch of time making a pointless English dub no doubt. (Twitch)
-The previously mentioned Trouble with the Cruve, with Clint Eastwood, Amy Adams, Justin Timberlake and John Goodman. Matthew Lilard continues his comeback as well. (Yahoo)
-Another poster for PTA's The Master. I liked the first one better, probably because I still have no idea what the hell it is. (First Showing)
-The one with the whole class of girls in Massachusetts who got pregnant at the same time. Why didn't I go to that high school instead of the one with all of the girls who didn't put out? Pfft. (Apple)