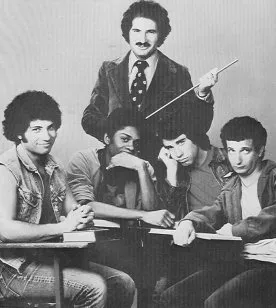 Ron Palillo, far right, with the cast of Welcome Back Kotter
Ron Palillo, the actor who played Arnold Horshak on '70s TV show Welcome Back Kotter, has died. The 63-year-old actor reportedly had a heart attack.
Before his untimely death, Palillo had been teaching acting to high school kids at a charter school in West Palm Beach – more than likely to a bunch of kids who never knew who the Sweathogs were before they met him.