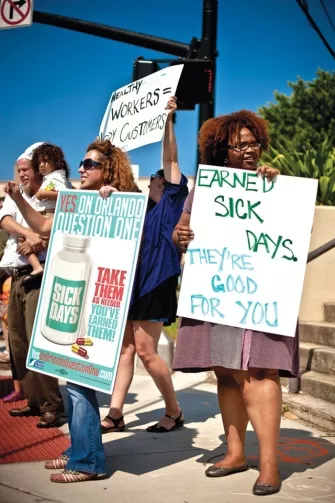 Stop the presses! After a long day – and, let's face it, a long summer – of pavement pounding, the activist groups comprising Citizens for a Greater Orange County finally got a taste of victory today when their hard-fought battle to get an earned sick time measure on the Nov. 6 ballot finally got the golden seal of approval of Orange County Supervisor of Elections and, effectively anyway, the mayor's office to put this little number up to a public referendum. A public hearing will be held on Sept. 11 and then, when all of the conservative commissioners decide against your well being, the item will be included on an already pretty dense piece of polling paper in the fall. The victory didn't come easy and the next steps promise to be even more difficult considering that the Chamber crowd is already a'donating and a'suing again' it, but given that people are suffering (and that this issue is about people and their specific rights and needs) there's a good chance that we can follow regions like San Francisco and Connecticut aboard the compassion train. We know a lot of dirty backstory on this – hello, Scott Boyd, Teresa Jacobs, and the deep pockets of the pay-for-business-play crowd – but today is a day for celebration. Below, the press release from the organizers followed by the collective gulp of the county realizing that it lost this particular battle. Congratulations, activists. You've earned this.
FOR IMMEDIATE RELEASE

August 17, 2012

Orange County Earned Sick Time Initiative Officially Certified For November Ballot

ORLANDO – Marlon Washington, chair of Citizens for a Greater Orange County, today released the following statement in response to Elections Supervisor Bill Cowles' announcement that the Earned Sick Time initiative has been officially certified for the November ballot:

"Today's announcement that the Earned Sick Time initiative has been certified for the November ballot is great news for Orange County's economy and health. This common sense proposal will help keep good workers in their jobs, give families financial stability, increase the economic security of our county and protect our health and safety.

"Thanks to the many volunteers and staff that have rallied behind this effort and worked so hard to make today's news a reality. On November 6th, we will make history by passing the Earned Sick Time initiative, and Orange County will become the first municipality in Florida to provide this important protection for its workers."

Pd. Pol. Adv. Paid for by Citizens for a Greater Orange County

P.O. Box 533473, Orlando, FL 32853
And from the county paper trail:
SENT ON BEHALF OF COUNTY ATTORNEY JEFFREY J. NEWTON

Today, August 17, 2012, we received a report from the Supervisor of Elections that the requisite number of verified signatures for the Earned Sick Leave Petition has been met.  In accordance with Orange County Charter Article VI, Section 602(B), a public hearing must be noticed and held within 30 days after verification of the signatures by the Supervisor of Elections  and his report to the Board.  Therefore, a public hearing will be held at the regularly scheduled Board meeting of September 11, 2012.

You should be receiving an email shortly from the Supervisor of Elections which contains the report.

Vermotta Hall Jackson

Assistant to County Attorney Jeffrey J. Newton

Orange County Attorney's Office

201 South Rosalind Avenue, 3rd Floor

Orlando, FL  32801

PLEASE NOTE: Florida has a very broad public records law (F. S. 119).

All e-mails to and from County Officials are kept as a public record.

Your e-mail communications, including your e-mail address may be

disclosed to the public and media at any time.