The seasons, they're just flying by. Why, you can't even peek into a gift shop window these days without seeing some slavering, undead ghoul staring back at you.
But that's OK. If you give a Red Hat Lady a nice cucumber sandwich, she shouldn't be too much trouble.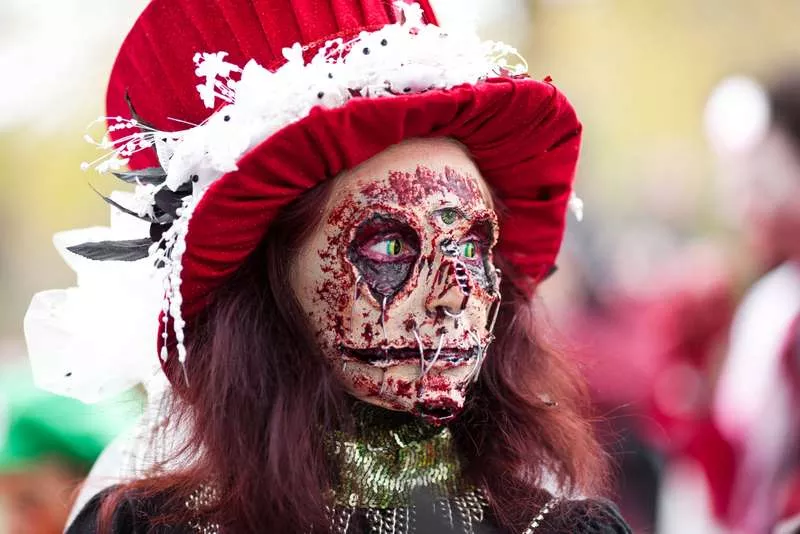 Meanwhile, it's time to figure out what you're going to be watching for Halloween. Turner Classic Movies has its traditional month of fright flicks all ironed out, featuring the typical mix of '30s and '40s ambience, Hammer horror and Cold War cheese. Tops on my own DVR list are the documentary Spine Tingler! The William Castle Story, which I missed when it played the Florida Film Festival a few years ago (You too? Whew!), and House of Dark Shadows, the 1970 feature based on the classic afternoon soap. That one I've seen, but not for decades, so I'm eager to be reminded if Dan Curtis was able to make a more coherent narrative feature out of the same daytime-drama story elements that just recently tripped up Tim Burton. (Somehow, I think we both know the answer.)
[youtube TqnMkc7T6Uw]
There's TCM at the theater, too, with the channel sponsoring a double feature of the original Frankenstein and Bride of Frankenstein (the greatest horror movie ever made, IMHO) on Oct. 24 at three local theaters.
In contrast, TCM's Halloween night small-screen schedule pairs Frankenstein with Son of Frankenstein instead -- maybe to subliminally warn viewers against voting Romney/Ryan six days later?
[youtube YJeH7CygN1s]
Maitland's Enzian isn't lying down on the job (or slab) either, rising to the challenge of the season by screening 13 Halloween-oriented flicks at and near the theater throughout the month. Highlights include the premiere of the multidirector found-footage anthology V/H/S (Oct. 26 and 27), the original Fright Night (Oct. 9) and a "Popcorn Flicks in the Park" showing of the delightful Abbott & Costello Meet Frankenstein (Oct. 11).
[youtube MmLh4NUu6E4]
And while I can't condone the idea of screening Zack Snyder's Dawn of the Dead remake (Oct. 3) instead of the real thing, we can still get our Romero on with Creepshow (Oct. 17).
There's also an Oct. 30 screening of Theatre of Blood, the Vincent Price revenge romp about a stage actor who gets even with his reviewers. Which reminds me of this little nugget of trivia: Several years ago, local experimental-theater director Rocky Hopson was planning on staging a live production of the tale, with the portrayed critics all to be based on real Orlando scribes of the day, like Elizabeth Maupin and
well, let's just say you haven't lived until sprite-like actor Jarred Sharar has bounded up to you at a public event and announced "I'm playing you!" like it's something to be proud of. The upshot of the story is that Hopson blew town before he could mount the production
thus sparing us all from finding out just how few members of the general public are capable of leveling the plaudit "That guy does a mean Schneider."
Anyway, old Vinnie Price still does this stuff the best. So mark your calendars for October, get a witch's shawl on, and keep the car keys where you can find 'em. And if you meet a Red Hat Lady on your way to the theater, burn rubber for Lake Lily: They can't cross water, you know.