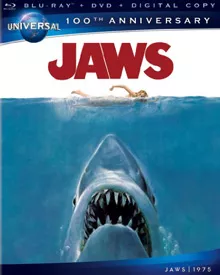 Much of my week was spent devouring both the Jaws and Royal Tenenbaums blurays. Both films look completely gorgeous in their hi-def upgrades, but beyond that there are some problems. Tenenbaums is the same disc as the DVD that came out 10 years ago, thus all of the features were shot in native SD and nothing can be helped about their quality aside from the photos which appeared soft on my television. But to add nothing about the tenth anniversary of such an influential, popular film strikes me a bit odd, even if it were only the inclusion of the 10th anniversary Q&A held at the 2011 NY Film Festival. So much has happened in both the history of the Oscar-nominated film and Wes Anderson's that I would have liked to see it addressed is all.
Jaws is, for me, the bigger problem. It suffers as well from its features being old and mostly shot in native SD. The feature length The Shark is Still Working, which I thought would be HD, isn't, and worse, it runs picture boxed throughout its run time (as in, it comes 4x3 letter boxed, leaving black both to the sides and the bottom instead of running at the screen dimensions). Worse, though, is the photo archives, which seem to be directly ported over from the 30th anniversary DVD, and look to be no more than 300 pixels wide running within a horrible video program. Contrast this to the Close Encounters of the Third Kind boxset, where the photo archives are both in depth and hi-res and it's very much a let down. Adding to that, I opted for the Best Buy digibook, which is priced seven dollars higher than the regular edition and one is left with a little bit of buyer's remorse.
Of course you buy these discs for the films themselves, but it's not unreasonable to expect a full measure of effort across the whole disc when so much effort was put into beautiful restorations.
I could also just be crabby because I'm writing this at 7 in the morning and haven't been to sleep yet.
News, links, etc: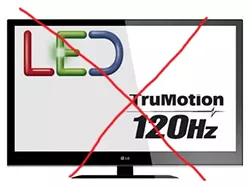 -Speaking of HD beauty, this piece about the scourge that is 120Hz HDTVs speaks the truth. When I bought my TV I had to fight with the sales guy in Best Buy to get him to shut up about the 120Hz sets and show me some 60Hz sets. Like the rent (and movie ticket prices), the refresh rate is too damn high! And it looks like shit. (AV Club)
-Lars Von Trier wants you to submit to him. Films. On Sammy David Jr. And, guh, of course, Nazis. In his next act, Von Trier is going to have to get a penis surgically attached to his forehead to cause any kind of stir. (NY Times)
-The NY Film Festival announced its slate this week. (Deadline)
-It's been a year now since the West Memphis Three were released from jail. They are not on speaking terms any longer. (NY Times)
-Jose Canseco invents time travel, wishes to be known as "the modern day Doc Emmett Brown"... because the Doc wasn't alive in modern times in this splinter of the space-time continuum? (Vice)
-Disney killed Henry Selick's (Coraline, Nightmare Before Christmas) new untitled stop-motion animated film because it wasn't "coming together". At least they're letting him shop it to other studios to complete it. (Deadline)
-Matt Singer on the Poochie effect going on in film today. You remember Poochie, the terrible new character invented by marketing research to revive the sagging ratings for The Itchy & Scratchy Show on The Simpsons. (CriticWire)
-Secret Style Icon: Sissy Spacek in Terrence Malick's Badlands. (Rookie)
-Excited for Eastern Promises 2? Focus Features says tough titties, cancels the project. In yo face, Batman hater! (No, seriously, this sucks. Eastern Promises was great.) (Twitch)
-Brenda Chapman (Brave, The Prince of Egypt) wants female directors to stand up for themselves and mentor people. She also wants female directors not to make insufferable coke-and-slut-joke films like Bachelorette. I may have added that last part, but someone needed to say it Goddammit. (NY Times)
-So apparently "God Gave Rock n' Roll To You" isn't the Wyld Stallyns song that saved civilization after all. I want a refund. (Slate)
Short Films:
-Orson Welles' real first film, a 1934 short parody of The Blood of a Poet. (Open Culture)
-What's it like to be a Reuters photographer at the Olympics? (ReutersTV)
Trailers, posters, etc:
-A new trailer for The Master, to promote it's 70mm premiere at the Music Box in Chicago. (YouTube)
-Kim So-Young's For Ellen, which looks great. Paul Dano looks tremendous in the trailer. Limited Sept 5th, iTunes Sept 18th. (Apple)
-Kim Ji-woon's first American action film, The Last Stand, with Arnold. Unfortunately it also has Johnny Knoxville, so prepare your rolleyes and bitchfaces. Apparently he wants to be called Kim Jee-woon now, but that's just not going to happen. (Apple)
-Seven Psychopaths gets the casting right, we'll see if they get the filmmaking right. (Apple)