Since it began to air ten weeks ago, I've been trying hard to avoid all of the Twitter chatter about The Newsroom. The West Wing aside, Sorkin is a notoriously slow starter, and one of the (many) problems with Studio 60 was that both the viewers and the network had largely written it off before the show began to hit its stride around the Christmas episode. Granted, there were other problems with the show, and some of the sluggishness from the slow start carried its way throughout the show's lone season. I was hoping for it to be different this time though.
But the problem with The Newsroom might have been that it actually started too quickly, delving into the complex world of office relationships and politics before the story was established. Before I had committed anyone's name to memory, there were love triangles and cheating and a lot of he said, she said. Jim (John Gallagher Jr.) and Maggie (Alison Pill) were destined to be together, eventually, despite her being with Don (Thomas Sadoski), claimed McaKenzie (Emily Mortimer), who herself seemed destined to be with Will (Jeff Daniels), and Sloane (Olivia Munn), socially inept as she is, deserved to be with someone too -- all stuffed into the first episode.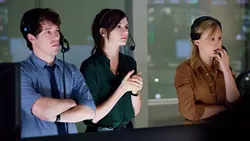 To contrast, The West Wing built its inter-office drama up over its entire seven season run in some cases, like Josh (Bradley Whitford) and Donna (Janel Moloney). Love stories tend to be more satisfying as a slow burn subplot than a blunt object beating us over the head. If we don't know the characters, why are we supposed to care who they hook up with, or who they don't hook up with? There is no identification, no agony. Time makes us care about the characters, makes us root for them, or yell at them for being too stupid to see what was in front of them. The Newsroom opted for the blunt object approach, and that may have been a fatal flaw for some viewers who judge things quickly.
Other problems come to the surface in The Newsroom too: Sorkin's love of strawmen, of statistic laden diatribes, and the inconsistencies of these diatribes. A victim of bad press most of his career, from personal take downs to unflattering reports of drug use, serial dating and a superiority complex, one of the season's main diatribes was against take down pieces of celebrities. Sorkin then delivered a set piece in the season's finale built around a take down of Sex and the City fans – a take down I happen to agree with, but the awkwardness of it still gnawed at me as much as the show's cinematography scheme, which was too flat, too broad, too bright and too wide to work with the show's material. Sorkin's insistence that the show isn't sexist doesn't always seem to jibe with the content of the show, where the female characters are ditzy and flighty, socially awkward, and as prone to trip over their own feet as they are to come upon a good story for the A block. Another thing is that it wasn't a particularly welcoming year of news that the show was rehashing.
Perhaps it's that I tried to watch the show without my critical hat on that these things ended up not bothering me. I wanted this show to work badly that I began to casually edit these things out, or rearrange them in my head so they didn't seem so bad.
There is a question in that, and it's one that has crossed my mind more than a few times as I watched the first season: is Aaron Sorkin a better editor of others' stories than creator of his own? His recent work in film – all great work, from Charlie Wilson's War through Moneyball, and of course a deserving Oscar for The Social Network – have been adaptations of books or stories, and his most notable play (and film credit), A Few Good Men, was written on the basis of a story about Navy hazing told to him by his sister, Deborah, part of the JAG Corps.
The West Wing, too, saw the benefit of other peoples' stories and opinions in its pursuit and capture of all-time television greatness. The long series run is built on the foundation of stories from the likes of former Clinton press secretary Dee Dee Myers, former Reagan speechwriter Peggy Noonan, former Reagan and Bush 41 press secretary Marlin Fitzwater, former Reagan chief of staff Ken Duberstein, former Moynihan aide Lawrence O'Donnell, and former Cuomo and Clinton economist Gene Sperling, as well as pollsters Patrick Caddell and Frank Luntz, not to mention liberal grabs at the presidential histories of Clinton, Kennedy, FDR and even Reagan and Nixon.
The show was molded by the steady and some say dictatorial grip of Sorkin's hands, absolutely, and no one can ever take that away from him, but how much of it was creation and how much of it was chiseling the marble down to everything that wasn't the statue?
It's a point that shouldn't matter, except that he seems to have relied on fewer consultants with The Newsroom – in fact, there are none formally listed in the credits, and loud denials were issued when asked if Will McAvoy is a love letter to Keith Olbermann. Then there is the story about Sorkins relationship with former NY Post gossip columnist Mandy Stadtmiller and how that influenced the show's wrap-up story arc. She wasn't exactly a consultant, though. Her story was appropriated by Sorkin and used through the lens of his prejudices. There is a good artists, great artists argument to be made, and every writer ever in the history of time and space has used a friend's story or predicament without permission, but in this case, by making her a formal consultant he could have perhaps mined gold instead of lead.
A show like this can't come from one brain. It can't even come from ten brains. It needs to come from dozens – as many as possible, to give it the proper scope and feel. A newsroom is a United Nations of very strange people who are all strange in different ways and that only came through superficially, mostly through Neil and his obsession with breaking the Big Foot story.
It may again be my lack of critical headgear that makes me feel that, even with its many documented and undocumented flaws, the first season was a success. Even though it's been glossed over here, the show began to hit a certain stride midway through, in episode 6, "Bullies" -- the old how was your day? episode, which has no better author than Sorkin -- and finished on a high with a lonely beef stew recipe that changed everything.
I haven't written much about what I liked in the series because there was little to specifically like that wasn't at least partly tainted by a flaw. I like Jim, Maggie and Lisa (Kelen Coleman) a lot, but they're badly tainted by the love triangle that wouldn't go away, and Lonny (Terry Crews) is great, except he's got such a small role as Will's bodyguard that's barely worth mentioning. Charlie Skinner, Neil Sampat and Leona Lansing all scored very high with me, and with other viewers, and personally, I liked Olivia Munn as Sloane, though it seems most people can't stand her for various reasons. But mostly I consider the season a success for the simple fact that, on the evidence of where it ended, I want to see season two.