Hey, everyone. Let's take a minute and wish Will's Pub a Happy 17th Birthday. Yeah, there were a few lost years in there, but the Pub has long been and still is the heart of Orlando's underground music scene. The celebration started a couple days ago, but is rolling all through this week. Check out the schedule:
Personal Boy, Marble, Sundrenched, Apoch, Glad Animal Movements (tonight)

Slim Cessna's Auto Club, the Mud Flappers (tomorrow)

A comedy extravaganza with Larry Fulford, Nick Pupo, Alex Luchun, Clay Robertson, Luke Swiderski, Lauris Vidal (Thursday)

The Pauses / Great Deceivers 12" Split Release, with Out Go The Lights, Alexander & the Grapes (Friday)

The Legendary JC's, Poetry 'n Lotion (Saturday)

Trails, Cheek's (Sunday)
Yeah, that's pretty awesome, right? Show your love, you guys, show your love.
Here's what else is going on this week:
Tuesday, Sept. 4
Thursday, Sept. 6
Friday, Sept. 7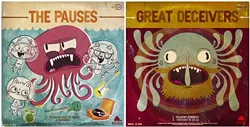 Saturday, Sept. 8