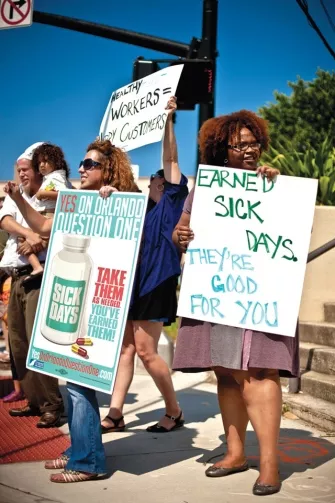 WELL, HELLO! We just sat through two hours of development nothingness in hopes of getting the BIG DECISION on the dueling banjos between good people and bad government that's materialized over the grassroots earned sick time initiative at today's Orange County commission meeting. Instead, our meter ran out and we had to put out a paper. So, in lieu of this information actually being in tomorrow's paper, we're taking to the internetz for a superfun observational liveblog of the whole sordid affair, remotely. Welcome to the world of deadlines! Anyway, just so you know, it was more important to spend two hours talking about a giant, lit-up Ferris wheel hovering over a wax museum, an aquarium and some more mixed-use nonsense. BECAUSE THAT'S WHAT'S IMPORTANT! Oh, wait! It's starting! Mayor Jacobs says both of the issues will be blended together, so it's going to get cray-cray.
4 p.m.: County Attorney Jeff Newton is smugly trying to point out semantic holes in the citizen-led initiative. Are employers businesses? Hmmm. Nasty old commish Fred Brummer is grumbling things that don't mean anything except that he's not going to be voting in favor of anything that is nice.
4:02 p.m.: Genius blowout commish Jennifer Thompson just called the initiative a "jobs killer." She says that HER amendment has had its "due diligence" via talking to 200 small businesses and hundreds of gay people. She gets a "chuckle" out of out of town emails she's received for the Orange County measure. She'd rather this were a statewide measure, acktchewelly, so she wouldn't have to think so hard. Her intentions, she's talking about now, have been misrepresented by THE MEDIA. Of course. Her amendment is "intended specifically to protect jobs in Orange County." Also, "Should local government restrict" non-government employment practices, etc. Now she's talking about taking out retroactivity. And, also, she loves the gays and the minorities, so it won't affect the Human Rights Ordinance or the MWBE (minority) programs of Orange County. Also, she just said, "there is a process for everything."
4:09 p.m.: Organize Now! leader Stephanie Porta is getting a talking to by Jacobs: "You have 30 minutes," etc. She just asked for Rep. Scott Randolph and former commish Homer Hartage to come up.
4:11 p.m.: Porta is telling her story: Referencing 9/11 to illustrate freedom and our "duty to democracy." She wants to work to make Orlando better, has since high school. She believes in a "democracy where people are part of the process." Citizens feel like they have no power, especially since they can't even get off work to show up at county commission meetings. She's talking about lobbyists, saying "we've even seen their memos." Best line: "The Thompson amendment sends a rotten message to the citizens of Orange County." Also, "Please help us truly be the happiest place on earth." HOORAY! APPLAUSE! She even cried a little when talking about a mom who lost her job for staying home with a sick child.
4:16 p.m.: A video is happening, but it gets hung up. Julie Norris is in it!
4:19 p.m.: A nice woman is referencing studies and surveys that show that paid sick days don't harm businesses. There are too many numbers and facts and logical conundrums here to keep up with. Important: The Central Florida Partnership overstates the cost of earned sick time by double counting. Take that, Jacob Stuart! Also, the policy didn't seem to hurt fucking SAN FRANCISCO, which I'm sure Jennifer Thompson has never heard of. Also, workers who go to work sick are likely to get patrons and coworkers sick.
4:22 p.m.: Business-dressed Brooke Hines is speaking in favor of the initiative. Workers without earned sick time are more likely to use emergency rooms, meaning it costs you more. "Far from being a one-size fits all measure," this is flexible. Also, those who already offer earned sick time aren't going to be affected at all. This is a win-win policy, she says.
4:26 p.m.: ANOTHER VIDEO! This time someone from the National Partnership for Women & Families is saying more of the same: Workers and families need this. Now we're talking about the H1N1 Flu! Not sure why. In Connecticut, which has a statewide EST measure, the economy is thriving, bitches. Research shows that Orange businesses would save a net of over $5 million if the measure passes. Awesome.
4:29 p.m.: Former Commish Homer Hartage is here talking about 9/11 again (it is that day, you know). But he keeps talking about it. He's "reflecting." To the point: DEMOCRACY. Isn't it great that we can debate issues from both sides. He talked to another business owner in the lobby about his own business, and why he supports this. Also, "this board is a board of law." 55,000 people say that we should have this on the ballot. To pass an initiative to shut them up is "unconscienable." Also, geese and golden eggs; echoes of "you built this" are here. He used to be against this because he owns a business, but then realized how expensive turnover is. Hiring somebody is expensive, and, by the way, workers matter. "I'm one of you, but I'm also one of them."
4:36 p.m.: Uh-oh. Rep. Scott Randolph is going off on the county attorneyz because he is an attorneyz. This is not Citizens United, etc. Corporations are not people. This is a really well crafted initiative. "You don't have to support it, but don't cheat voters out of the opportunity to have their voices heard." He's been a STATE REPRESENTATIVE, and just like Fair Districts challengers, the commission is playing crazy with the law. The charter amendment will "confuse the voters," obviously. Is it legal? Yes. Does it increase cynicism among the electorate to shut them up? DUH! "Take into account what citizens really think about their government... Let's let them make the decision."
4:39 p.m.: Marlon Washington is A VETERAN ON 9/11 in addition to being part of the Citizens for a Greater Orange County crew. Hey, and please call it "earned sick time" not "paid sick leave," assholes.
4:41 p.m.: Teresa Jacobs is confused about what the semantic problem is; Washington is noting that the group has heard that the county gossip is that they're going to change the language to make it more confusing.
4:42 p.m.: HERE COMES THE OTHER SIDE! And it's ugly old Jacob Stuart of the CFP/Chamber/Moneypot. He's talking about his "unprecedented" support for a legal remedy to help him "clarify the misleading language." They're taking this shit to court THIS FRIDAY. (He's going to talk for 10 minutes, so forgive me if I vomit). He's listing all of the Chambers of Commerce, especially the ones with minority words in them; Now it's on to big business development interests; Now it's on to statewide organizations that are all super billionaire lobbyists like the Florida Retail Federation who take baths in pools of gold. God, he's angry. "Will businesses move out of Orange County, or will the refuse to come in?" Both suck, he says. AND NOW HE'S INVOKING GOD! WHAT ABOUT THE CHURCHES (THAT DON'T EVEN PAY TAXES)? He says part-time teachers, employees, gubment workers enjoy an unfair exemption. THIS WILL CREATE A "COMPLIANCE NIGHTMARE." This puts Orange County in the position of covering too much, it's too complicated, too expensive. IT'S BAD PUBLIC POLICY. He wants to make out with Jennifer Thompson's charter amendment, or her, or whatever. His CEO says that this will make us less competitive. Also, media is ruining our image as a good place for business. HA! Have you worked for minimum wage? No. Neither has Harvey Massey, who is going to talk next. Then a bunch of people from other GIANT SPECIAL INTERESTS who happen to be involved in his worthless lawsuit. Plus, WA-WA, which is what everyone is talking about these days. WA-WA is everywhere. Some lady from TWISTEEEEE TREAT will talk, too.
4:51 p.m.: Crusty old man Harvey Massey of Massey Services and everything else is lecturing like your dad would about the evils of dancing. Hello, John Lithgow. Naturally, he's bragging about the size of his business, but MORE IMPORTANTLY, this is "my home." He has grandchildrenz that live here. He "clearly understands the want and the need for paid sick leave." HE ALREADY PAYS FOR IT.  Work for him for 15 years and you get 4 weeks of vacation! Basically, this would not affect him, then. So why is he so against it? Is it because he is in love with (or paid by) Jacob Stuart? Gosh, Massey has great benefits, he brags and brags and brags. "We've never laid anybody off," he says. He's not trying to advertise his business, he says, after advertising his business. He understands the wants and needs of those behind the initiative. But FRINGE BENEFITS SHOULD NOT BE MANDATED BY LAW BECUZ ITZ THE RECESSIONZ. Now he's citing OBJ's unemployment rate numbers. Hold up. Is he saying that his business is better than other businesses, while not advertising his own business? What? Oh, no regulation for businesses, that old claptrap. He was sitting down with a couple of ladies today, one of them his **assistant**. They were hypothetically speaking about the difference between a company with 14 employees and companies with 15 employees. It will kill everyone to hire one more person! Cuz then you have to play nice! On a side note, what does Harvey Massey know about small businesses? Nothing. The term "competitive disadvantage" has come up, apropos of nothing. "When people have jobs, what they gain is self-esteem," he says, from beneath a billion dollars. "You can't regulate, you can't tax businesses into prosperity. Only people can do that." Of course, that makes no sense. This is starting to get senile sad. FRINGE BENEFITS (AGAIN) would ruin Orange County in the eyes of outside businesses. Thank God, he's closing now. He's been working for 50 years so he knows about risk and reward. Also, entrepreneurealismismism. AND THE CLOCK CUT HIM OFF AND HE GOT NO SPECIAL TREATMENT.
5:01 p.m.: Bryan Butler of Associated Contractors (maybe Brian?) finds this CUMBERSOME, COSTLY, AND TROUBLESOME. We are not opposed to paid time off, he says. The mandatory issue is not to be done in the public sector, or something. Construction job losses are really bad, and this will make it worse to "pull out of." If no companies come here, we will have no JOBZ!
5:04 p.m.: Some guy who was sitting in front of us nodding off earlier from the Central Florida Hotel and Lodging Association "opposes" this because it's bad for tourism. COMPETITIVE DISADVANTAGE. OK, these talking points are getting old.
5:06 p.m.: IT'S THE WA-WA GUY. He has another 30 stores planned for Orange County. 30 WA-WAS. They also already offer sick time and great benefits, dontchaknow. It's the mandate that bothers him. But will it stop him from opening stores here? Why would it if they "already do it?" Who knows? Hello, Jacob?
5:08 p.m.: Somebody from the Hispanic Chamber of Commerce is here, but has to have the clock started over after Jacobs is forced to call "order" on the miscreants among them. Hispanics hate this, he says, because of "confusing and misleading language." Hmm. He just went to Colombia, and says NOBODY FROM COLOMBIA would come here if there are earned sick days. Again, hmmm.
5:10 p.m.: Some "small business owner" is talking about the service industry and how employees shouldn't call out and if they get fired, that's between the business and the unemployment office. You do not want to work for this woman. What am I supposed to do, close the store if someone calls out? What if that somebody is the DOMESTIC PARTNER OF AN OLDER PERSON? What the hell is that implying?
5: 14 p.m.: Jacobs just called a ten minute recess. In other news, somebody in the comment section - perhaps the only person reading this - does not like me. I'm calling out sick.
5:32 p.m.: And we're back. The language issue has been settled. Uh-Oh, there are going to be a million speakers now, so forgive me if I don't catch all of them. Maybe we should wait for the commissioners' discussion? This is getting longwinded.
5:39 p.m.: The regular folk are talking now, and a guy from UCF is yelling at the big businesses for not going out and getting their 50,000 signatures. Slam! "Voters will hold you accountable for your choice!"
5:41 p.m.: Jacobs does not like outbursts at all. She's threatened to call recess if there are any more "outbursts."
5:43 p.m.: Somebody just pointed out that we're already paying the chamber our tax dollars to cover their rent, which is true.
5:47 p.m.: Somebody else just asked how exactly it is that we go about recalling EVERYBODY ON THE DAIS!!!??? That's awesome. In typical fashion, Jacobs brushed it off her shoulder and said, "see the county attorney."
5:51 p.m.: Let's take a minute to recognize the likelihood of folks in suits to be against the EST initiative versus the, uh, lower-wage workers to be for it. That's how the rest of this is going to play out, methinks. In other news, Jennifer Thompson just decided to defend her position on democracy: More choices on the ballot - however confusing they may be - will make for more democracy. Yeah, that makes sense.
5:59 p.m.: "Mr. Stuart, it must be quite a luxury to get 2.5 million to lobby against the taxpayers," says activist Timothy Murray (before getting scolded a bit). He's promising to go door to door in each of the commission districts to tell voters what the board is doing: abusing power. "It really comes down to chamber versus people."
6:02 p.m.: OK, this story is very sad and I don't even want to write about it, but if a boss tells you to get your ladyparts altered in order to move ahead with the company, that boss should be arrested. SERIOUSLY.
6:04 p.m.: League of Women Voters representative is "disturbed" about the initiative because it may overcrowd the ballot. Wow, that's a little surprising. But she's even more upset about the "political sleight of hand" the commission is playing with its proposed charter amendments. Mixed bag, then.
6:07 p.m.: "The most radical overreach" of democracy, that's what this is, according to Rollins' professor Lisa Tillman. She's going professorial smart on this – lots of big numbers on health care – before a polite stab saying that it would sure be awesome if we were all as healthy and well-off as the board is. Then we wouldn't even need sick days!
6:13 p.m.: Democrat honcho Nancy Jacobson's glasses are always awesome, and she's really good at pointing things out: You can't move the goalposts when the citizens played by the rules. Hell, at least she pointed out that this nitwit Jennifer Thompson ordinance hasn't even had review by THE CHARTER REVIEW BOARD, which is, well, customary. A polite fuck you, then.
6:26 p.m.: COMMENT OF THE NIGHT: "THIS IS A HOT MESS" Yes. Yes, it is.
6:29 p.m.: Chambercrat (and former county) attorney Tom Wilkes just announced that THE CHAMBER HAS LOST ITS HEARING! Wait, didn't somebody say something earlier that the fight was going to court on Friday???!!! Who's zooming who? Also, is that the sound of backscratching and inbreeding that I hear? Come on, people. Can't reason just prevail?
6:32 p.m.: Nope. The Retail Federation is threatening that if the EST ordinance is passed, all the stores in Whoville will have to raise their prices so that we're as expensive as SAN FRANCISCO. Oh, empty threats. She's followed by a haircut from the Florida Restaurant and Lodging Association like a sad, hollow echo. We're really at the carcass level here, now. Or is that just me?
6:43 p.m.: OK, another bumper sticker! "If you don't have a job, you don't get sick leave." Now, we're definitely knee-deep in the happy hour crowd of after work business interests. The one talking now, "used to be an activist!" IRONY, she calls it. Considering the voice of business instead of the voice of democracy is like a black fly in your chardonnay. FACT.
6:47 p.m.: I think I love Denise Diaz. Here's somebody who's worked with the commission before on other things like, oh, transportation, they were all hem then haw, this isn't the right time and stuff. But now that the Chamber has to "get on bended knee" (a true quote from a true chamber memo) to levy its influence, the commission can make a charter amendment out of expensive, hot air. TRUTH! Oh dear, there are still 15 or 20 more speakers. My fingers just fell off. BUT WAIT! Here's attorney Mary Meeks of TEH GAYZ calling out the board on the goddamned charter amendment and how it will quite likely affect gay employment rights. She knows of what she speaks, too, as she's been meeting with the board on this crap forever. This is "unprecedented," she says. The charter "will have consequences," she says, and Thompson is no longer really liked by the gays. She quoted Scott Maxwell, who sadly is not gay. And the mike goes out. Looks like we're in for another 20 minute break. Imma gonna go grab a bite. YOU SHOULD TOO.
7:32 p.m.: WE ARE BACK! And, we have another gay attorney (I love gay attorneys), and this one is talking about wide nets and specific fishes – because sick leave is a giant guppy. Fishtank metaphors aside, the word "disingenuous" has been tossed out there, as has further crucifixion of Lady Thompson and love of big money. The problemmmmmmmmmm again, is that this screws up future opportunities to legislate where incentives don't work (i.e. discriminatory practices). You know, like with fish.
7:38: Jim Callahan. JIM CALLAHAN! If you don't know who Jim Callahan is, you are neither a local politician or local reporter. He is a hyperbole wrapped in a bookworm (or is it the other way around?). Anyway, of course he's for EST and has just uttered the words "family values" and "occupy movement" in the same sentence... plus "redistricting." JIM CALLAHAN!
7:42 p.m.: A SECOND GRADER CAN WRITE BETTER THAN JENNIFER THOMPSON. this is a fact.
7:53 p.m.: "A new kind of voter suppression," "Who will win the race to the bottom?" I'm kind of loving how this is becoming SO MACRO! And now we're getting to the gut of it. Everything that was going to destroy businesses in the past, you know, like child labor laws, totally DID destroy businesses, right? Also, it's not the people that are "confused," it's the board that is. You gotta hand it to Jacobs for sitting there and taking this for six hours. Well, not really. SNAKE IN THE GRASS.
8 p.m.: WHAT'S RISKIER THAN BEING POOR IN AMERICA? Where's that reward you were talking about before your evening foot rub, Mr. Massey? Oh, it's in your goblet.
8:02 p.m.: After that boisterous performance, we learn that Jacobs likes "enthusiasm." Small biz guy Frederick Barr is now up there saying that businesses - and, by proxy, board members - aren't any  more "special" than those of us who just ate leftovers out of the old microwave while watching the civic rattlebox shake.
8:05 p.m.: Quick question, who's going to be walking Jennifer Thompson to her car tonight? She's wearing BRIGHT YELLOW. Also, this woman who started talking earlier - way earlier - about bad gubment spending, is now here telling jokes that nobody's laughing at. She's also making some kind of spiral-sense that may just sound like sense because of exhaustion. "Who pays who?" CLASS WARFARE! Or, something.
8:09 p.m.: NO, THERE ARE NO POINTS THAT BEAR REITERATING NOW. WE ALL WANT TO GET THE ANSWER AND GET A BATH.
8:14 p.m.: Two more speakers. TWO MORE SPEAKERS. And one of them is the lovely Amy Ritter, who I danced with once, and she broke a rib at work from coughing so hard, and had to keep on working. That's not fair. (She didn't break a rib when I danced with her, though. That was me.) And the last guy - THE LAST GUY - is talking about rich people going to the Bahamas to get drunk and talk politickin'. Now, he's laying into LADY THOMPSON. "Give us a chance." Give us a chance, indeed. THE PUBLIC HEARING HAS CLOSED.
8:17 p.m.: SURPRISE! GRUMPY BRUMMER has decided to move that this sick time thing won't be going through in any easy way, because we all expected it to just sail on through without a ballot vote. In fact, the vote against it was unanimous. Gasp. This will not go down easily. Hearts. Broken. Who knew? Brummer wants "experts" to talk about the language of the ballot initiative, meaning he basically wants to legally pick apart something that has already been vetted by many lawyers that aren't in Fred Brummer's dusty pocket. He wants to push it off to the Oct. 16 meeting, meaning it won't be on the ballot even though it is? Even County Atty. Newton doesn't know what Brummer is talking about. Moore-Russell and Baby Martinez are now both playing the same game. So today means nothing, then? Bullshit.
8:24 p.m.: Ted "Ted" Edwards wonders aloud about a judges ruling on the language of the EST ordinance, and it sounds like Newton may be agreeing with him. He's citing a District Court case from Pompano or something, Edwards is noodling around in state statutes, this is indeed A HOT MESS. Sounds like Newton is saying that because 50,000 people signed something with a certain language, it can't be changed? Or is Edwards saying that the board should change the language to make it MORE legal? So we're stuck, then. "I don't see that happening tonight," says Edwards. BUT SOMETHING HAS TO HAPPEN TONIGHT.
8:31 p.m.: NEWTON: WE'RE NOT ACTING ON THE RESOLUTION. Edwards, Moore-Russell, and Jacobs vote not to extend this nonsense, but are overruled. Thompson is now trying to defend her ordinance anyway, even though sick pay apparently isn't going to make the ballot? Because it's "MACRO?" Are you confused? Me too. Moore-Russell is kind of taking down Thompson right now, saying that her little chamber-bait shouldn't be on the ballot either. SO WE ALL WASTED OUR TIME.
8:38 p.m.: Jacobs: We ain't goin' home til we figure this out.
8:40 p.m.: Now everyone is seeming like they're "HESITANT" about Thompson's stupid amendment, because it doesn't mean anything now that we don't even know we have a sick pay initiative. Why weren't they hesitant before? Thompson, for her part, "would hate to take this off the table." She's talking about mom-and-pop businesses who can't take the time off to be here (because everybody else who works in the day has all the time in the world). Thompson doesn't want to back down.
8:41 p.m.: Jacobs' opinion is straight down the  middle. Neither side was ever fully vetted. "Of course I think that [sick people] should be able to go home," she says, before talking about how it shouldn't be mandated, or it shouldn't be unpredictable, or FUCK OFF TERESA JACOBS, YOU'RE NOT MAKING ANY SENSE. YOU CAN'T TURN EVERYTHING INTO DUST OF WHIMSY IN ORDER TO MAKE IT GO AWAY. YOU TRIED THIS WITH THE DOMESTIC PARTNERSHIP THING IN JANUARY, FOOL. Her defense, things are too tough right now. "I want to get people back to work. Then we can have the broader discussion about sick leave, but at the state level." Oh, hot potato. Also, she's not doing it for the chambercrats, because they all voted for Bill Segal, anyway. "Let's find the things that we agree on."
8:46 p.m.: Nobody knows if it can get a charter review on time to get on the ballot - either of the ordinances, anyway. Thompson doesn't want to wait for her stupid amendment to get a vote later. Get it on the ballot and make it "temporary," or somesuch. BILL COWLES IS LOSING HIS MIND RIGHT NOW. The best we can make out is that Earned Sick Time just got killed, and Jeff Newton has 30 minutes to come up with a version of Thompson's bill that will probably go on the ballot and last four years until the next charter review? Erm.
9:25 p.m.: BULLSHIT, ILLEGAL, BULLSHIT, ILLEGAL. Teresa Jacobs is back now with a "piece of information" from Bill Fucking Cowles, who is saying that it would cost $200,000 to print the ballots for Thompson's insincere vanity plate, so maybe we should consider this in 2014 instead? Thompson is clueless and still wants this to happen. $200,000 in the big scheme of things is not a big thing, says Thompson. She would hate to defer this! Brummer, and his neck, now wants prudence, too. Quoting the AMAZING DANIEL WEBSTER, "The worst legislative mistakes are made at night." THIS IS A COMPLICATED ISSUE. "Anybody else want to help Commissioner Thompson out?" Momma Jacobs asks. Thompson pouts. Jacobs tries to play momma some more, saying that though she hates it, "citizens do have a right" to an initiative that they got the signatures for. SHE INVOKED HIGH-SPEED RAIL. "IF ANYTHING WE SHOULD HAVE CAUGHT THIS IN THE CHARTER," she says. The petitioners did nothing wrong, except they did everything wrong.
SO NOTHING HAPPENED. Except, "No justice, no peace," as the crowd chanted into the ether. We all wasted our time.