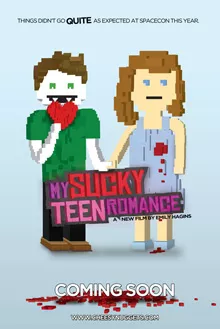 To be candid, after seeing the 2009 documentary Zombie Girl, the chronicle of a 12 year old Texas girl named Emily Hagins and her struggled to try and juggle life, middle school and directing her first feature zombie film, I never expected to hear about her again. Like the kids who made a frame-by-frame reenactment of Raiders of the Lost Ark, I thought it was  a cool story, but one that would go no further.
Three years later, though, and here I am talking about her, as her latest feature -- the vampire comedy My Sucky Teen Romance -- starts its run on VOD. Now nineteen years old and more sure of herself, the movie is a substantial jump up in quality, as you'd expect.
A one-last-hurrah high school movie, My Sucky Teen Romance takes its starting point from a mutual dislike of teenage vampire culture that Kate (Elaine Hurt) and Allison (Lauren Lee) share as they prepare to head to a sci-fi convention to blow out Kate's last weekend in town before heading off for college. They are cute and vibrant girls, nothing like the typical riff raff (such as myself) you'd expect to find at a sci-fi convention, and that's a joke Hagins goes out of her way to make at times, casting the sloppiest, saddest group of middle-aged dorks (my people) to fill out the background -- but, really, you'd have to say that they're the intruders in this scene.
It all goes wrong, of course, when Kate's long time crush, a grocery clerk named Paul (Patrick Delgado) shows up dressed as a vampire. The thing is, he really is a vampire. His motives hidden from view, he splits his time casing the convention goers, waiting for a specific panel about vampires to take place and mired in awkward sexual tension with Kate, whom he accidentally bites, turning her as well.
Part of me wants to be hyper critical and say this isn't a professional film, to play the Royal Tenenbaum ruining Margot's play by saying it's just a bunch of kids in vampire costumes, but the rest of me is screaming at that part, "shut the fuck up, gramps". It's true that it's not a strict professional film, but it has the hallmarks of being on the path to future professional films for the young director. In most professions, youth is an assett, but not filmmaking. As vital as youth makes you, experience and broadened horizons is a far bigger key to filmmaking. It's how you learn how and when to apply comic relief, and how to dip into pop culture sparingly, so you avoid making a films with a cultural time limit on it. But so many films these days arrive on screen like a dead fish staring back at you, and that's something, for all its shortcomings, Hagins avoids nimbly here. There is a surprising subtlety to Kate and Paul's story, as it intertwines with Jason's (Santiago Dietche) story that you don't see coming. It's a joyful film, like how Shoot the Piano Player is a joyful film. It's not on par with Truffaut's second film, but Truffaut was 11 years older and maybe that makes all the difference.
Available now on most VOD platforms -- save yourself the dollar and rent it in SD. Click here for the film's trailer.