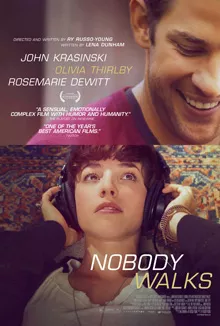 You can't throw a stick these days without it clunking squarely into something written, directed or created by Lena Dunham. The controversial personality behind the TV show Girls is everywhere: Criterion, HBO, The New Yorker, forums, blogs, Facebook, Twitter -- and now she's on VOD with a new film called Nobody Walks, co-written Ry Russo-Young, about a young artist named Martine (Olivia Thirlby) who has come to Los Angeles to record the sound for a short art film she's made. Things become sticky, though, when the sexy new houseguest begins to have an affect on the family she is crashing with.
Most of that affect happens in the head of Peter (John Krasinski), the sound effects whiz who is doing the Foley work on her film, who becomes smitten with Martine the second her little boy haircut enters his field of vision. The thing is that it's never clear why.
Subplots involving Peter's wife, Julie (Rosemarie DeWitt), and her daughter Kolt (India Ennenga) aside, the film stakes its viability on what you think of Martine, but instead of spending any time building her as a living, breathing character, Russo-Young tends to turn her camera to pretty shots of Los Angeles, furtive glancing and of sound collection, slipping into a lazy reliance on the fact that you probably already like Olivia Thirlby enough to automatically like Martine – and to be honest, much the same could be said about John Krasinski's Peter too.
What do we really know about Thirlby though? Though she seems fairly down to Earth in interviews she rarely plays anyone likable in her movies. In Juno, she is the annoying best friend; in New York, I Love You she plays the girl pretending to be a cripple for research; she's barely in Margaret long enough to register, and in The Wackness, she
well, everyone sucks in The Wackness to be fair.
That trend continues here with Martine. She is presented as remarkably empty and timid for an artist, having been sued over her last project – naked pictures of her ex-boyfriend – and unable to field a relatable vision with her short film about insects when asked about it. With her, the film lacks conviction, never clearly deciding whether it wants us to think that Martine is special, or whether she is the fraud to be held up to Kolt's real artistic blossoming.
Still, it's a pretty film, paced well considering, and the subplot between Rosemarie DeWitt's psychiatrist and Justin Kirk's nameless screenwriter is the film's saving grace, popping up just often enough to keep you engaged. Russo-Young gets much right, but the film's center is lacking. Having an enigma character usually relies on the filmmaker's ability to create a character that we so badly want to open up. It's something Kolt might be if she were the focus instead of a story conduit, but Martine is, when you break it down from what little is shown, probably not worth opening up. She's actually a pretty awful person, and so is Peter, whose shortsightedness has him jeopardize so much for so little.
Verdict: save your money for The Master instead.