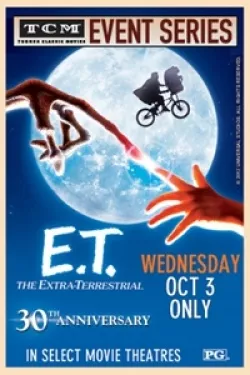 Steven Spielberg is going to be raking in a fortune this year between Lincoln, Tintin and all of the Bluray and theatrical releases he's got going on -- Jaws, Indiana Jones and now E.T The Extra Terrestrial.
The alien who was so funny looking is scared Mars into passing on having M&Ms in the movie is back for a one-night-only 30th anniversary show from Fathom and Turner Classic Movies in advance of the film's Bluray release on October 9th.
They will be co-presenting the restored original 1982 version of the film -- no digital ET, no walkie talkies, just classic Hollywood at its best.
The pre-screening hosts (via taped video) are TCM's Ben Mankiewicz and E.T. star Drew Barrymore.
Check it out at the following theaters:
AMC Altamonte Mall 18 ALTAMONTE SPRINGS 32701
AMC Pleasure Island 24 ORLANDO 32830
AMC Universal Cineplex 20 with IMAX ORLANDO 32819
Cinemark Orlando Festival Bay ORLANDO 32819
Regal Pointe Orlando with IMAX ORLANDO 32819
Regal Waterford Lakes Stadium 20 ORLANDO 32828
All screenings are strictly bring your own tissues. And if you don't need tissues, you might need a heart.
Get tickets: fathomevents.com, fandango.com