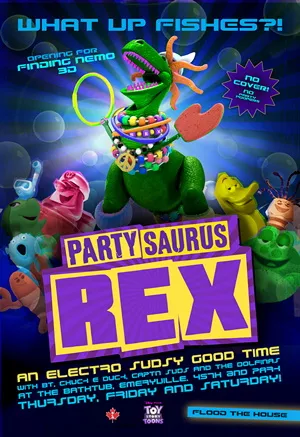 If you missed the release of Pixar's newest Toy Story short film with the 3D rerelease of Finding Nemo, tonight is your chance to get a peek at Partysaurus Rex -- albeit in 2D.
The short, which finds tiny-limbed Rex (Wallace Shawn) left behind after bath time to make new toy friends (and party, obviously), makes its television premiere on the Disney Channel at 10pm during Toy Story Toons.
Most of the original voice cast, including Tom Hanks, Tim Allen, John Ratzenberger, Estelle Harris and Don Rickles, reprise their roles.
====
UPDATE:
Well that came and went and I forgot all about it while pulling my hair out at the Yankees woeful inability to hit in the clutch.
The good news is that Partysaurus Rex is available on iTunes now for $1.99. Check it out on iTunes.
====
UPDATE II:
...or watch it Disney.com for free.