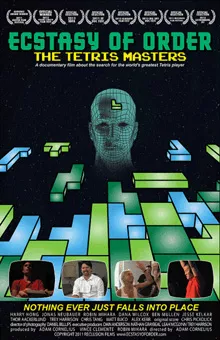 I'm not sure if I've lost more waking hours or sleeping hours to Tetris, but it's a depressing number of each. A person can't just casually play Tetris. A distant cousin of games like dominos and Breakout, at its slowest levels Tetris a perfectly simple game of creating lines for points.
At its highest speeds, Tetris is demonic and taunting, and if you're not ready for the next speed boost you won't last long. At its highest speeds, one simple mistake – one flick of the thumb too much, or not enough – and you're done for. This trick, that it's such an easy game, is where the obsession hides, deep in the coding. It should be as simple as counting to four with your thumbs. But when it comes to Tetris, the thumbs are incompetent slaves to the brain, and the brain is an incompetent slave to the will. Like most classic arcade games, it doesn't have an ending, it just gets harder until you die.
But in the 1990s there was no one better at Tetris than a strange skinny kid from Texas named Thor Aackerlund. No one came closer to "beating" Tetris than he did. His thumbs actually were slaves to his brain, vibrating the d-pad more than pushing it, creating an incredible speed for sliding pieces left and right. Watching him play is a hard thing to reconcile with reality, that's how agile his piece movement is.
Aackerlund, who finished in first place at the Nintendo World Championships in 1990, is the closest thing the game of Tetris has ever had to a grand champion.
But then he fell off the map.
In 2010, one of his competitors at the NWCs, Robin Mihara, set out to fix the record when it came to Tetris, calling together the country's best players – as verified by the Twin Galaxies score board – for a winner take all tournament in Los Angeles.
Unlike King of Kong or Chasing Ghosts, Ecstasy of Order doesn't seek to find Aackerlund to mine his story for narrative gold. Though he seems to be something of a tragic figure in the small segments that do trace the broadstokes of his story, Adam Cornelius' documentary is as obsessed with the game as its devoted fans are. It only seeks Aackerlund out because you cannot have a championship of Tetris without the man once regarded as the best.
Perhaps that's a tragic flaw for the film. Perhaps Aackerlund's life could have been mined and made for a better film, like Steve Weibe's, but perhaps it's also better this way. King of Kong was manipulated in ways that made for a great film, but for lousy reportage and I've always felt let down by that. Ecstasy of Order maintains its appeal in a more pure fashion: the viewer's own Tetris demons. The tournament collects the best players in the world – Jonas Neubauer and Harry Hong, who have maxed out the high scores (999,999), and Ben Mullen, who held the record for high lines (296 – my own personal high is a paltry 191) – and shows their triumphs and failures in terms of the game itself. The best players in the world can be stumped by a longbar drought just like the rest of us. The best players in the world can drop a piece in the wrong place just like the rest of us. It keeps the allure of the game's difficult simplicity alive as it asks the most tantalizing question: is there even a such thing as a Tetris Master?