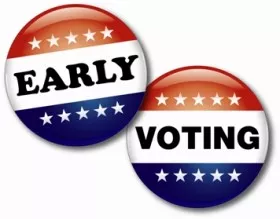 Popluar Hispanic civic organization Mi Familia Vota Education Fund, a nonprofit dedicated to increase Latino participation in elections across the country, will hold a rally tomorrow at the Bravo Supermarket on Semoran Boulevard to encourage Latino voters to not just vote, but to take advantage of Florida's early voting opportunity.
"Early voting gives Americans across the country the ability to vote for their interests at the ballot box, even if they can't make it to the polls on November 6," said Ben Monterroso, executive director for Mi Familia Vota Education Fund, in a press release sent out to the media today.
The rally, will take place this Saturday from 10 am to 12 pm, and will give people info on where and how to cast their vote early. Approximately 40 volunteers will be on hand to encourage people to take advantage of the chance to get to the polls early, particularly if they think they won't be able to get to the polls on Nov. 6. This is Mi Familia Vota's first rally in Central Florida. Hispanic voters make up approximately 16 percent of the state's registered voting population.
It is estimated that by the end of the election, Mi Familia Vota will have knocked on 15,000 doors statewide to encourage voting – 400 in Orlando alone.
According to the Orange County Elections Supervisor's office, early voting in Florida begins 10 days before the election – so this year, you can cast your vote as early as Oct. 27 at any of the area's early voting locations.