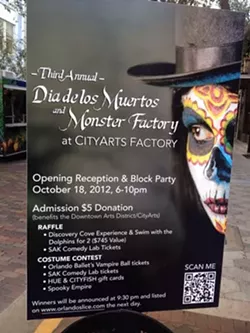 Last night, downtown's Pine Street in front of the CityArts Factory was closed to vehicle traffic, making way for a parade of face-painted freaks, dancing monsters, and fungi-vending food trucks. No need to panic; it was all just part of the Downtown Arts District's 3rd Annual "Dia de Los Muertos" Third Thursday gallery opening.
The debut of this year's popular "Monster Factory" art show was accompanied by live performances from Yow Dance and Empty Spaces Theatre Co, and a collection of puppets from IBEX Puppetry.
Exhibits will remain on view for a month; in the meantime, enjoy this selection of snapshots from the opening.