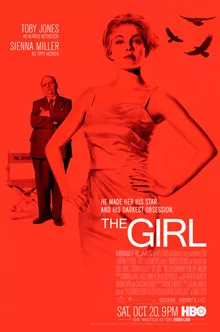 HBO premiered its Alfred Hitchcock/Tippi Hedron biopic, The Girl, last night in primetime. A co-production with BBC, the film tells the story of the living prison Hedron was kept in by an obsessed Alfred Hitchcock in the 1960s. Aside from the diminutive English actor Toby Jones in the role of Hitch, there was very little to the picture. It harkened back to the old "movie of the week" style of made for TV movie (but with way more budget), the scratch-the-surface style before "it's not TV, it's HBO".
The short would-be psychological film ran for just under 90 minutes, making it too slight to work as anything more than an anecdote about the depths are creepiness that obsession can lead a man to. It's a germane topic at the moment because of Reddit, but it's not an informative film for people with a passing knowledge of Hollywood and I don't think I'll ever be sold on the idea that Sienna Miller is a good actress. To hold it up to HBO films of the past, like RKO 281 (which starred Tippi Hedron's daughter, Melanie Griffith as Marion Davies) or The Late Shift (or better, non-Hollywood related films, like Citizen X or *61) only does further disservice to it.
Still, I expect it'll be better than Liz and Dick.
Lastly, please don't forget about TCM's Rare Animation Marathon tonight beginning at 8pm.
News, links, etc: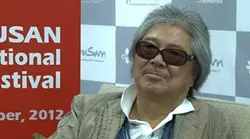 -This is absolutely awful: Koji Wakamatsu, the radical independent Japanese filmmaker, was hit by a car in Tokyo this week and died. Two of his films, United Red Army and Catepillar, are available to stream on Netflix. Catepillar is very hard to watch. Running in Madness, Dying in Love and Cycling Chronicles: The Landscapes the Boy Saw are also particularly good, though hard to come by. (THR)
-Pixar is finally slating two films for one year: both Pete Docter's untitled "inside a girl's mind" movie (written by Michael Arndt) and what is thought to be Lee Unkrich's Día de los Muertos project will both be out in 2015. (Pixar Planet)
-Pixar also brought in former Buffy and Mad Men writer Marti Noxon. No word on what project she'll be joining, or if she will be starting something from scratch. I would think from scratch. Everything else announced should already be beyond the scripting stage if they want to keep up a two films a year pace. (Upcoming Pixar)
-Criterion teased some of their upcoming 2013 titles and it should be a good year if they're true, especially when A Brighter Summer Day comes out and I can finally throw the crap bootleg copy I have away. (CriterionCast)
-There are no deal specifics, but the Asian Film Market at BEXCO was on fire this week. The article is very light on information, but some of those have to have been American companies. (KoBiz)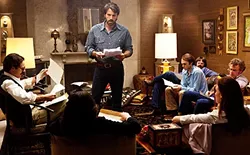 -Argo from the eyes of the hostage crisis survivors. (NY Times)
-JOAQUIN TO OSCAR: DROP DEAD. (Interview Magazine)
-Javier Bardem on his villainous role in Skyfall. (Guardian)
-Remember when you could see the next Best Buy from the one you were about to walk in to? Not so much anymore. (Business Week)
-A rare behind the scenes doc for The Empire Strikes Back from Dutch television. (i09)
-Wired unravels Kim Dotcom's life and mansion in this kind (except for constantly calling him a sweaty fatass) longread. (Wired)
-The Other F Word, the great doc (surely not a tepid one) about punk rock dads, is going to be a movie with Jason Segel I guess in the Jim Lindberg (Pennywise) role. (IndieWire)
-I love Rosie Perez. (And Jorge Washington and Presidente Jimmy Smits.) (YouTube)
Short films:
-Apichatpong Weerasethakul's Cactus River. (10:08) (The Playlist)
-Teacher of the Year, a short comedy with Rachel Dratch. (17:00) (Funny or Die)
Trailers, posters, etc:
-Strange to get news about a bootleg video in a press email, but this cellphone shot PSA features Alfred Hitchcock's (Anthony Hopkins) plea to get you all to shut off your fucking cell phones in the theater. (YouTube)
-Dragon, aka Wu Xia, with Donnie Yen and Takeshi Kaneshiro. I think it was two years ago in my Foreign Film Forecast article that I wrote about this and TWC is finally releasing it on iTunes next week. (Apple)
-Holy Motors, by Leos Carax which made quite a splash at Cannes this year. I do hope the Enzian picks it up. It's killing at the Film Forum in NYC already. (Apple)