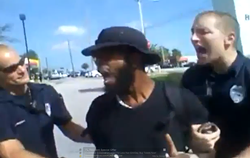 Just got a heads up about a local case that made national news in July, when Casselberry police stopped two individuals for jaywalking. When they asked the couple for ID, a shouting match ensued. Police attempted to arrest 25-year-old Zikomo Peurifoy – for what, it's not entirely clear – then tased him several times for not being cooperative. The video below shows the altercation, during which his companion, 27-year-old Noelle Price, insists that the officers call a supervisor. Things get pretty hysterical, before Peurifoy is put on the ground, cuffed and arrested. Police found a gun in his waistband, which he tells police is permitted and legal.
According to a story in the Sentinel that appeared in July shortly after the incident took place, both Peurifoy and Price were arrested in the incident. Casselberry officials stood by the officers' actions and told the Huffington Post that Peurifoy's "obvious resistance" was reason enough for his treatment at the hands of the officers.
According to court records, Peurifoy was arrested on charges of "battery upon a law enforcement officer" and resisting arrest.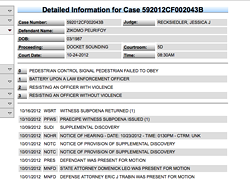 According to the Jennifer A. Jacobs law firm, a motion to suppress has been filed by the defendants in the case "arguing that the police had no reasonable suspicion to stop the two, no basis to request ID and no probable cause to make an arrest. The hearing on this motion has been scheduled for Oct. 23, 2012 at 1:30 P.M. at the Seminole County Criminal Justice Center, 101 Bush Blvd., Courtroom 5D, Sanford, Florida."