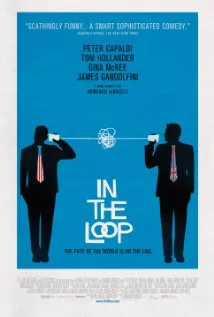 Nervous feeling in the pit of your stomach? Democrat or Republican, you should probably have one (unless you know something about Florida and Ohio voting machines that the rest of us don't). Nate Silver has the President winning Florida and Ohio but I'm not as trusting as I was in 2008.
If you haven't voted yet, Billy Manes has some endorsements for you to look through. If you have already voted, I've got some films for you to stream to stick your head in the sand with until midnight when the polls in California, Oregon and Washington close. A mix of political satire and stuff that's not political at all.
Netflix:
In the Loop - Armando Iannucci's fucking side-splittingly hilarious British wonks come to Hollywood to climb the mountain of conflict with America's best and brightest toddlers.
Trumbo - The devastating documentary about the ring leader of the Hollywood 10, Dalton Trumbo, and his quest for the freedom of speech.
Duck Soup - When Groucho Marx takes over the tiny country of Freedonia, war can't be far behind.
Broadway Danny Rose - One of Woody Allen's most underrated films, featuring possibly the funniest gag of any of this films in the warehouse for Thanksgiving day parade floats.
The Man Who Shot Liberty Valance - John Ford's classic western, featuring John Wayne, Jimmy Stewart and Lee Marvin as one of the scariest outlaws ever put to film.
Hulu+:
The Thick of It - Armando's Iannucci's BBC about Number 10 will have you gasping for air if you can understand all the Scottish accents. Start from the beginning. It's short.
The War Room - Re-rekindle your love affair with Bubba with DA Pennebaker and Chris Hegedus's documentary of Bill Clinton's 1992 campaign which made stars out of George Stephanopoulos and the Ragin' Cajun, James Carville.
The Great Dictator - Charlie Chaplin's lampoon of Hitler and Mussolini, with a soft heart for the little Jewish barber. It's a little strange to see the Tramp talk, but 70 years later it's not so shocking really.
Shoot the Piano Player - There is never a bad time to watch Truffaut's second film, about a prodigy pianist hiding from his past in a Paris honky tonk bar.
Tanner '88 - Robert Altman and Gary Trudeau's satire of 80s politics. I can't really recommend this from viewing experience, but it's what I'll be watching today for the first time so I thought I'd mention it.