Send your Election Day photos to esullivan@orlandoweekly.com and we'll post them to this blog or a gallery on our site. Please identify where the photo was taken and let us know who to credit for the image. Note: Please do not try to take photos inside polling places. That's not legal in Florida.
Above is a photo of the line outside the North Park Baptist Church in Baldwin Park in Orlando at 9:30 this morning. Parking was at a premium and people were prepared for a long wait in the rain to cast their ballots. Another image, below, is a better view of the line.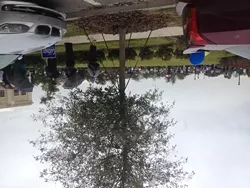 Also, the opportunistic Jim Huckeba campaign hasn't stopped trying to use the deceased Earl K. Wood's name to propel its candidate. Before the late tax collector passed away shortly before the election, Huckeba's campaign launched a "Where's Earl" PR blitz, which said that the 96-year-old Wood, the county's longtime tax collector, was too old to do his job and never showed up for work. Now that Wood's gone, the campaign is posting signs near polling places that point out that Wood is deceased, so people should vote for Huckeba. The signs fail to tell people that outgoing state Rep. Scott Randolph has been appointed to run in Wood's place. So if voters do cast a ballot for Wood, it'll be a vote for Randolph. So Huckeba is not your only legit choice. Interesting to note that the campaign sign below, also seen in Baldwin Park, bears an orange logo that is
Holly Kapherr shared these two images from the South Econ Senior Center polling place in East Orlando. More long lines.
She says it took two hours to get this close to the door.
Here's a good one from Stacy Rivera, via Twitter. She writes "Coolest polling place." And sure enough, there it is: The East Orlando Harley Davidson, which is an official Orange County polling place. While most of us are voting in churches and YMCAs and community centers, some people in East Orlando are voting in a Harley showroom.
Hey Colonialtown voters, your polling place at the Colonialtown Neighborhood Center has NO LINE! Now's your time to vote! Billy Manes just snapped these at 11: 45 a.m.
Here's a pic from Eola Heights, where there's reportedly a 45-minute wait. One of the scanners was on the fritz this morning, but poll workers say people have been pretty patient – no temper tantrums or trouble, aside from the usual hangups with fickle voting machines.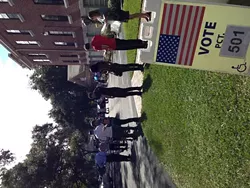 Amy Teet just sent us this one – she has successfully voted!
The Florida Family Policy Council isn't advertising who they are on their signs. But they are out here in Baldwin Park tonight, handing out voter guides and telling people that they're a nonprofit, nonpartisan organization disseminating info.