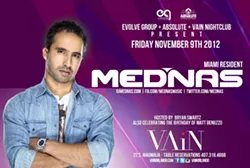 Insomniac Event's world famous music festival Electric Daisy Carnival is back in town this week, and as music festivals go, there are countless reasons to love them. Unfortunately, the party has to end at Midnight. Who goes to bed at Midnight after a music festival? Well, no one I know. For people like us, there are afterparties... we need to do our thing until the sun breaks the night. For a quick rundown of unofficial official EDC afterparties, look no further than here, we gotcha covered.
Shaping up to be the granddaddy of them all is Bassjet, a 2-day party in an airplane hanger at Orlando's Executive Airport, hosted by Drum & Bass icon AK1200. Tittsworth, Dank, Mantis, Fei Fei, and Team Jaguar of Key & Peele's "Dubstep" are headlining, with support coming from Winston Wolfe and Meaux Green.
Next up is Alliance Events, HTG Events, and Vizion 1 Entertainment for the Ignition Afterparty at Firestone Live. "Surprise Guests" are to be announced, and since HTG works hand in hand with Insomniac Events, you never know who might show up to this one.
If you're looking to stay downtown, the famous old skool clothing company Kikwear is making a stop in Orlando with Dat Azz Gear, Muze Entertainment, and Social Menace, for their 2012 relaunch. Break out those old skool wide legged jeans and pick up some merch, Kikwear will have giveaways all night.
Evolve Group has parties on both nights after EDC with DJ Mednas, Liv Miami's resident DJ holding things down on Friday night at Vain, and Kontrol The Afterparty on Saturday night at Roxy with JRyder and residents Phoenix Jagger and 99.
Orlando Indoor Soccer (Futbol?) has The "Only" EDC Afterparty with all styles of House and Dubstep from Blood Shot, X-Andy, Soundlogic, Loco Aragon, Yander, Delgado, and DJ ZO. This one is pretty interesting; the venue is big and can hold a pretty nice crowd.
The N L P crew is hosting Drop Control at Vixen with Breakbeat artists DJ Matrix, JDub, Adam Bomb and David Salgado, these guys always throw down heavy bass and know how to party. Stop by for a few drinks at this one and you'll have a great time.
Rounding things out is The Encore at King Tut's Lounge, genres span from Dubstep and Trap, to Electro, Progressive, and Tech House, all the way over to Moombahton. Phoenix Jagger and 99 are at this one as well with Gumstep, DJ Aramis, Ralo, OldBoy, and Filth E. O2 Breathe will also be on hand with some fresh air and choice aromas to stimulate your senses.
These are only the afterparties of course, the main event is EDC, for a glimpse of what to expect, watch their official trailer and remember to look for live tweets from #EDCOrlando 2012 on the twitter accounts at @OrlandoWeekly & @EdLuvables!!