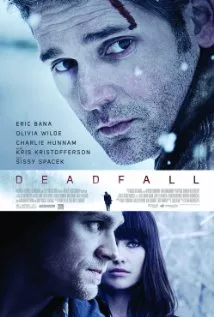 From the trailer, it looked like Stefan Ruzowitzky's wintry casino heist film 
Deadfall
 had all of the makings of a tight, gripping psychological thriller. Everything looked right, from the twisted, broken family angle to the Thanksgiving blizzard setting that eventually sets the deadly Addison (Eric Bana) against Jay Mills (Charlie Hunnam), the boxer just out of jail, and his own sister Liza (Olivia Wilde). But this is why we shouldn't trust trailers. They lie, willfully, like a politician. And instead of the gripping thriller promised, Ruzowitzky and screenwriter Zach Dean treat us to a sloppy melodrama full of bad accents and ham-handed police sexism where screaming as loud as you can is a substitute for emotional depth. The film starts shortly after the casino heist, with Addison and Liza already on the run, splitting up after their car hits a deer and flips off of the road for a better chance at survival. Addison murders the cop who was trying to help them, setting off a slow witted manhunt by the local sheriff's department, where none of the boys club want to let the deputy sheriff, Hannah (Kate Mara), join in because what if she has to stop and change her tampon in the middle of the chase? I should have added quotations there, because that's a quote, one that thuds in the middle of the scene like an anvil from a 1980s very special episode. In the world of this film, sexism is a cartoon problem, lacking all of the subtlety and savvy that it possesses in the real world.
These problems extend out to the cast, with Eric Bana playing an extension of his character from
Hanna
, a cutthroat survivalist with pinpoint accuracy who speaks like an imitation Southern preacher. He's not given much to work with, and Charlie Hunnam is given even less with Jay, an Olympic boxer just out of jail who gets into trouble hours after getting out when he gets into a fight with a sleazy boxing trainer to owes him money. Jay is attacked and fights back, but doesn't think anyone will believe him so he flees, running into the shivering Liza along the way, whom he promptly falls in love with and takes home to meet his parents, where Addison is hiding out, holding Jay's mom and dad (Sissy Spacek and Kris Kristofferson) hostage. Spacek is the only one who really comes off well in the film, and it's her scenes with Eric Bana that play the best. Bana feels to be over acting, or at least acting in a way where we can see him acting, in the rest of his scenes, but he is calm and understated playing against Spacek in a way that eventually falls apart once the rest of the gang joins them for their Thanksgiving hostage diner, where writer Dean meant to play out the heady drama, but either as written or as translated by the actors came out as maudlin and overwrought before mercifully ending.