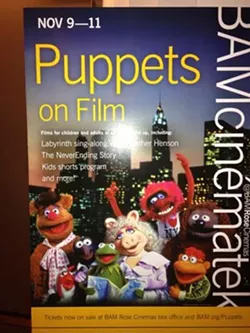 The cast of IBEX's Labyrinth sing-along at BAM
You won't find my usual Live Active Cultures column in this Wednesday's issue of Orlando Weekly because I've been out of town in New York City for the past week working on a very special project.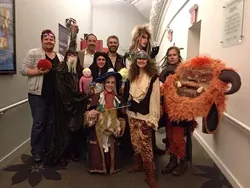 On Friday November 8th, the Brooklyn Academy of Music hosted the New York premiere of a live interactive sing-along screening of Jim Henson's 1986 cult classic Labyrinth (starring David Bowie and Jennifer Connely). The presentation was the opening late-night feature at BAM's Puppets on Film festival, presented by the Jim Henson Foundation.
I directed and emceed the Rocky Horror-inspired "audience participation" event, which was produced by Orlando's IBEX Puppetry, and hosted by Heather Henson. The live cast also included former Orlando residents Jeremy Seghers and Mary Clymene.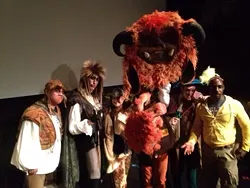 Enjoy these photos from the performance, and look for my LAC column covering this week's IAAPA amusement industry convention in the 11/21 issue of OW.