While millions of people saw Bond this weekend, I had an odd little experience of being in an almost empty theater on a Saturday while finally seeing Cloud Atlas. I usually like to see movies during the day to avoid big crowds, but I had figured, being a Saturday, it would be packed and showed up to the theater so early they hadn't even started running the First Look program. It was needless. The big crowds milling around the theater halls were all for Skyfall, Wreck-it-Ralph and Flight. Cloud Atlas was me and six people, one of whom was a pre-teen who kept leaving the theater, I guess to play video games.
I just can't believe how dead business has been for Cloud Atlas over these 3 weekends where most films make most of their money. They've barely crossed the $20m mark and probably have little hope of recouping the $100+m spent on it.
Of course the most surprising thing is that it's not a very good film. It's meandering and empty, and, to me, only the Robert Frobisher/Rufus Sixsmith story was of any interest. But in a ~three hour film with six storylines, they only got about a half and hour of screentime. I never expected much from the Wachowski's part because as good as they are with special effects, they're not very good at drama, but I expected more from Tykwer's storylines and he didn't deliver. Again, he didn't deliver. I've whined about it in the past, but I don't know what happened to the guy who made Heaven and The Princess and the Warrior.
News, links, etc:
-Well that was fast: Disney has already tapped Little Miss Sunshine and Toy Story 3 scribe Michael Arndt to write the new Star Wars trilogy, based on a 50 page treatment. (Playlist)
-Billy Mitchell kind of kicked the shit out of Steve Wiebe in Fix-It-Felix at a promotional contest Disney held for Wreck-It-Ralph, 164,000 to 78,900. (@wreckitralph)
-But some dude in Seattle kicked the shit out of both of them with 276,400 points. (Examiner)
-15 Wreck-it-Ralph secrets and easter eggs. (Mental_Floss)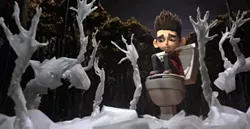 -The long list for the Best Animated Feature category at the Oscars was released this week. Tough to pick a winner this early, though of the ones I've seen, I'd give it to ParaNorman. (Deadline)
-Longtime voice actress Lucille Bliss died this week. Over the years, you've heard her voice in The Smurfs (Smurfette), Cinderella (Anastasia), and Invader Zim (Miss Bitters), to name a few. (Cartoon Brew)
-Daniel Day Lewis on his Lincoln voice. (NPR)
-The Weinstein Company picked up the rights to Bong Joon-ho's new film, the English-language Snow Piercer. (Twitch)
-Some Navy SEALs are in some hot water over their contributions to the game Medal of Honor: Warfighter. (NY Times)
Deadline's ongoing Oscars Behind the Scenes series:
Short Films:
-The Origin of Creatures, a post-apocalyptic short about the life of peoples limbs. (12:05) (io9)
-The Painted Lady, a poetic short featuring Jena Malone and a very Sofia Coppola feel. (Nowness)
Trailers, posters, etc:
-Hong Sang-soo's Cannes hit, In Another Country with Isabelle Huppert and Yu Jun-sang. (Apple)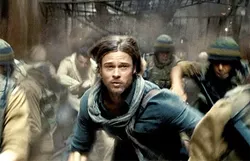 -World War Z, which is still being filmed, and actually still be written apparently. (Apple)
-The Central Park Five caused a bit of a stir earlier this year when Ken Burns refused to hand over outtakes that the City of New York requested to help them win the damages case against the five men they wrongfully jailed. (Apple)