Three days later and I'm still stuffed from Thanksgiving, but it only makes it easier and more logical to gorge on movies along with gorging on leftover pie and corn bread stuffing.
The cold I came down with this week didn't help much since I was konking out left and right, but I managed to watch a whole shit load of Rolling Stones documentaries and concert films, which is something you'll (hopefully) be reading about next week.
Also, today is finally the day. It's Liz and Dick day, everyone. Huzzah! Huzzah! Huzzah!
News, links, etc:
-THR apologizes for the whole black list thing. Better late than never, I guess? (THR)
-Hayao Miyazaki and Isao Takahata have both announced the titles of their next directorial projects, The Wind Rises, Miyazaki's piece about Japanese Zero fighters, and Princess Kaguya, Takahata's adaptation of Princess Cutter. (First Showing)
-Is Fox rebuilding The X-Files from the ground up for its (rumored) bluray release in 2013? I've been rewatching it sporadically on Netflix and it could sure use some updates on effects, but its not so bad since a lot of effects were done practically. The early episodes are still pretty rough though. (Digital Bits)
-Sony's first 4k HDTV set will be shipping in a few weeks for those lucky enough to have $25,000 to drop on an 85" tv, but the big news about it is that it's shipping pre-loaded with a bunch of native 4k titles. (No idea what the titles are, but presumably they are all from Columbia Pictures. If one of them is Close Encounters I might have to sell my ass on the street for some TV money.) (Sony)
-A look at how they did the lion in Life of Pi. (NY Times)
-Noah is a officially a wrap. (@DarrenAronofsky)
-The FBI released Alfred Hitchcock's FBI file and it's... really boring. (IndieWire)
-Director Lee Unkrich on the process of making a Pixar film. (Life Hacker)
-If this report is right -- the the box office numbers have been hurt by the shutdown of Megaupload -- Maybe Obama really should give Kim Dotcom a visa to come and fix Hollywood's online business? (slashdot)
-A longread about the Zapruder Film, copyright and the moment tv news became a thing. (Motherboard)
-A five part blog series about the art of self distributing your movie by Lisanne Pajot, James Swirsky, directors of Indie Game: The Movie. (Indie Game: The Movie)
-A one hour Q&A with Paul Thomas Anderson after an Australian screening of The Master. I haven't watched this yet, but how could it be bad? (IndieWire)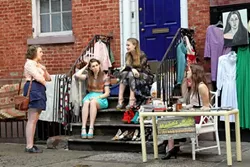 -Girls, season 2, is coming, and so is the press blitz. Didn't season 1 just end like last month? It always took The Sopranos like 3 years to make a new season. (Esquire)
Short films:
-Never thought any of Darren Aronofsky's short films from his time at AFI would be released, but No Time was released online this week. Of course Protozoa is the one everyone wants to see, but still. (22:41) (Indiewire)
-And here is Alan Moore's short film. (18:51) (Vice)
-WB put a bunch of the Fleisher Studios Superman cartoons online this week. (WB's YouTube)
Trailers, posters, etc:
Unfortunately, most of the trailers hitting now are for January Junk and I don't really want to share those.
-Wong Kar Wai's The Grandmaster trailer finally has subtitles. (Film Comment)
-The first footage from The Host 2 leaked, but its not being directed by Bong Joon-ho, so meh. I don't see the name of the director anywhere, to be honest. Maybe the film is just accumulating from different effects houses. (Twitch)