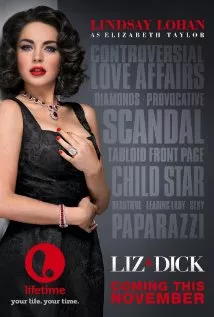 Just some quick thoughts I had while watching Lifetime's Liz & Dick -- which by strict movie of the week standards isn't so terrible, but by any normal film standard is a miserable, artless, lifeless lump:
-My prevailing thought this whole time was, "at least they're off Marilyn for now." And let's be honest, that's a huge step for movie producers. Everything is Marilyn. Marilyn this, Marilyn that, Marilyn up the ass. I love Marilyn too, especially the comedies, but it's too much. It's just a short break though. By the news feeds, they're going right back to Marilyn for next year.
-Grant Bowler as Dick... wasn't so bad actually. No one can really do Dick -- not even Bill Murray in Scrooged -- but he got the essence and the voice, if not the immense presence. To which I ask this: what the hell is he doing in a Lifetime movie? I haven't seen him in anything else though, so I'm not sure of his real abilities. Maybe he was just benefiting from the low standard of those around him.
-I don't want to pile on, but, just like in real life, Lindsay Lohan is a train wreck in motion, heading straight into a wall. Her makeup crew got Liz right, but when you're playing a two-time Oscar winner, you need to bring it (like Cate Blanchett brought it for Katherine Hepburn, or -- yes -- Michelle Williams did with Marilyn). Lohan though, hard as she tries -- and you can see her trying really hard -- can't act. She just can't. She never really could, not even her rightfully beloved Mean Girls role, where she was natural in playing a stressed teenager because she was a stressed teenager. But here, given another chance and asked to branch out a little bit, she doesn't have the natural being of her personality to fall back on. Her awkwardness, once a plus, is a major dent here. She's thrown her life into disarray over the last few years since Mean Girls -- and whatever, I'm not going to judge her for that -- but she's thrown her career away and that's a palpable problem here: you can see the stress on her face. This is perhaps her last chance to get back into the game, into the career she ought to have had. And it wreaks havoc on whatever abilities and confidence she might have had going into it. Having to play crazy, vulnerable and fat couldn't have helped her any, but experience hasn't been channeled nor conveyed, only the stress of the situation. She tries so hard that all you can see of it is the trying, the reading the lines as they were on the page, hitting her marks and trying to hang with Bowler. Special effects artists always say, "if you can see my work, I didn't do my job", and the same goes for acting. If you can see the acting that's all you can see, you can't see the character.
-Still, I wouldn't be surprised if Lohan did make something of a comeback off of this. It's going to end up with killer ratings, no doubt, even if most people were rubbernecking. TMZ joked the other day about Lifetime doing a whole series of famous women films, all staring Lohan. Heidi Fleiss, Hilary Clinton, the whole cast you'd expect, all with Lohan as the central woman in crisis. Lifetime could do worse.