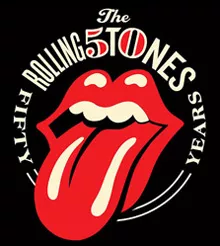 Earlier this week in London's 02 Arena, the Rolling Stones kicked off their 50th anniversary tour, playing to a sold out crowd for so long they were 
fined £200k for breaking the noise curfew
 -- and didn't even finish their set before the plug was pulled. There is a joke in Cameron Crowe's 
Almost Famous
 that Jimmy Fallon's character delivers, "
if you think Mick Jagger will still be out there trying to be a rock star at age fifty, then you are sadly, sadly mistaken.
" It's a self-contained joke, since Mick Jagger and the rest of them were already well past fifty by the time the film came out, but it grows funnier now as the band itself passes age fifty, and there they are, still shaking their asses and rocking. Exhaustion, death, clashing egos, jail time, stinging words in autobiographies and all of the drugs in the world -- even old age, now -- nothing has seemed to phase this band over the years. But the Stones are more than just the music and the ego and behind the scenes legends. They're also film. More than any other band except maybe The Beatles, their career seems inextricably linked to the world of film, both in terms of documentary and concert films and being surrounded by those 60s London and Paris and Italian film scenes, being involved with the likes of Anita Pallenberg, Roger Vadim, Alain Delon (or, his estranged wife Nathalie anyway), Hal Ashby, Marty Scorses, Nicolas Roeg, and on and on. They are figures in others' documentaries, like Keith's jam-and-bicker session with Chuck Berry in 
Hail, Hail, Rock n' Roll
, and his cameo in 
Pirates of the Caribbean 
or Mick's performances in 
Performance
 and 
The Man from Elysian Fields
; some of the earliest examples of "needle drop" soundtracks, like
Zabriskie Point
and
Mean Streets
, feature Stones tracks (in Martin Scorsese's concert film 
Shine A Light
, Mick Jagger jokes that this is the only film Scorsese has ever made that didn't feature
Gimme Shelter
) -- there is even 
a sense that some of their songs should be retired
 from film for overuse over the years (a sense I agree with).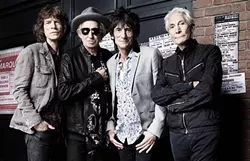 Even films that have nothing to do with them personally, like 
Jazz on a Summer Day
 and 
Rock, Rock, Rock
, become a part of their story, as both were hugely influential films to the band members lives. That's where they got to see the likes of Chuck Berry and Little Richard doing their thing for the first time in motion instead of just on record -- that's where they stole it all from. The Stones had almost become a parody of themselves, moving into their greatest hits arena rock phase by the time I was born (never mind the fact that it would be another 15 years or so after that before I first really heard them), so its not without a large sense of 
whew
 that I think about these films, capturing a time that I'll never be able to experience except in small, retroactive doses through the prism of time and someone else's lens and ideas (and, often, filmic experiments). But at least they're all there, from the early days of running away from shrieking girls in urine soaked undies to 
the songs they just played in London
 on YouTube.
*****
Charlie is My Darling - Mick Gochanour, Peter Whitehead (1966/2012)
Shot hastily in September, 1965,
Charlie is My Darling
is a compelling, hazy look at the early Stones, just as they were beginning to take off to super stardom. It happened over two days, during their brief blur of a tour through Ireland -- a triumphant tour after Satisfaction landed as their first #1 in the US charts (and shortly #1 in the UK charts as well). When we think of the Stones, or at least when I think of the Stones, it's of the 70s makeup of the band, strung out but still rocking hard, oozing sex on the front end with Mick's gyrating and Keith's innocent bad boy thing, built on the stoic foundation of Charlie Watt's steady backbeat and Bill Wyman's unchanging expression on bass, and with Mick Taylor instead of Brian Jones. For me, it's almost hard to imagine the Stones without a horn section, let alone without Bobby Keys. But
Charlie is My Darling
looks more like a Beatles documentary than anything else: girls shrieking, passing out, wetting themselves, the band unable to hear themselves, the shows devolving into messy riots with the band on the run for their lives. Out the back door they go, into a running car, or running across the train tracks. But it's the wrong mop tops here. The Stones are supposed to be one of the hated bands, their fans too cool (or wasted) to chase them out of the building. It seems almost surprising that the Stones had a period like this to anyone born post-Altamont and post-heroin busts, when the band had trouble getting visas to come tour the US. The Stones did always roll with the fashion, starting out as straight-laced bluesmen before their manager Andrew Oldham stuck them in matching jackets. The jackets didn't last long before the flowing hippie stuff came in, and then the jumpsuits and the
Miss You
 phase. This was an era of the Stones that I've encountered almost entirely aurally, not visually, and I think that's true for a lot of people my age. As a consequence of the mayhem, most of the tracks they play are rough and incomplete (when you can hear them over the shrieking). They're enduring quality is based around the witness of the strange rise of a band about to break it wide open to the point that, while most of the other bands are forgotten memories, they've just started a 50
th
anniversary tour.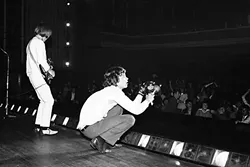 The charm of the film, like most concert films, comes backstage, with the band tucked away in odd corners, train compartments and backrooms of pubs. Mick and Keith (and the almost forgotten Ian Stewart) jamming out old blues songs on a piano, Brian Jones waxing philosophically about art and the oddities of marriage, and with Charlie – the most charming – uncomfortably enduring the camera in front of his face, and a man asking forceful questions. He half tunes the interviewer out, playing with a dry paintbrush or trying to light his cigarette. The interviewer goads Charlie into giving the answers he wants, insisting that they are great while the demure Charlie isn't having any of it. In the film's best moment, Charlie finally breaks down and jokes, "maybe it's an inferiority complex, maybe I'm great after all" with a sly shit-eating grin. The film had a brief release in 1966 before being put away until earlier this year, when it was released in theaters and on bluray. It was the first time seeing the full film for a lot of people, but going forward will probably be something up there on the list of essential Stones' docs, just under the likes of Gimme Shelter. It's a shame the camera crew only followed them for two days. In the end, when they take off, it was for Chicago, to record at legendary Chess Records the next day.
NEXT: Brian spirals out of control, the band is visited by a weird Marxist.
*****
Part I | Part II | Part III | Part IV | Part V