I finally caught Red Tails this week on HBO. I don't wish to damn it with faint praise, but the George Lucas-financed Anthony Hemingway-directed story about the first all-black squadron of fighter pilots in WW2 was not as bad as you might expect it to be from the trailers or from Lucas's involvement. Certainly, it's no better or worse than something like Memphis Belle, a similar story, but about a white bomber crew, much like the bombers the Tuskegee Airmen protect in Red Tails.
There is an inescapable patina of lameness that coats the film, something that old war pictures have too, even the good ones, but there is a lot of strength of character right below it, or maybe it's more than the whole squadron has a strength and likability to it than any one particular flyer. Individually, there are a lot of common character types to contend with (the hot shot, the drunk, the religious one, the funny one, the musician, not to mention cartoon Nazis), but for whatever reason it worked for me.
Maybe it's just that its too exhausting to keep on shitting all over everything George Lucas does, but you can't really level a charge of insincerity against a man who kept pumping money into this project even though he knew he'd never get any of it back.
News, links, etc:
-If you're only going to hit one link from the roundup this week, make sure it's this crazy hour long roundtable with Quentin Tarantino, Ben Affleck, Ang Lee, Gus Van Sant, David O. Russell and Tom Hooper. Hooper comes off as a bit of a tool, but that's just the reality with good directors. QT tells a few great stories that I'm sure you've seen the excepts of by now, but are worth hearing in context. (THR)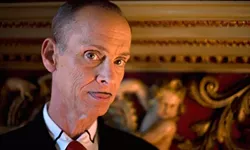 -John Waters' (and Susan Oxtoby's) top 10 films of the year. Always well worth a read. (Art Forum)
-And of course Mr. Skin's top 10 nude scenes of the year. (Mr. Skin)
-Safety Not Guaranteed writer Derek Connolly and Day & Night (the short that ran before Toy Story 3) director Teddy Newton have been booked as writer and director for an unknown future Pixar project. Now that they've gone to two films a year, things are really moving with Pixar news. (A113 Animation)
-Lots of Park Chan-wook stuff this week: first, Spike Lee's Oldboy remake wrapped principal photography early Friday morning. (@PierceConran)
-Second, they're dipping into the well of the Revenge Trilogy again and remaking Sympathy for Lady Vengeance. I submit the original is perfect in tone and scope , a story that is made perfect in tone and scope by how deeply embedded with Korean traditions that have no American counterparts, and doesn't need a remake, but whatever. (EW) (more PCW in a minute)
-How Disney went about animating Wreck-It Ralph. (Deadline)
-Behind the design of the packaging for Criterion's release of Hitchcock's original 1934 The Man Who Knew Too Much. (AIGA)
-Another profile of Bill Murray, but we could read about Bill Murray all day. Hyde Park on Hudson opens at the Enzian on the 21st (unless Searching for Sugarman gets held over). (NY Times)
-A longread on the experimental filmmaker Jonas Mekas. (The Guardian)
-Oscar season is well and truly under way now that the annual Governor's Awards have taken place. (THR)
-Producer Rick McCallum has also left LucasFilm, which I don't think is a huge loss. (EW)
-How Dogme 95 reinvented Denmark. (The Guardian)
Short Films:
-The Oscars have narrowed down the Best Live Action Short Film to an 11 film short list. Nominating ballots are being mailed out already. (Playlist)
-Speaking of Oscars and short films, here is 2001's winner, Father and Daughter, by Michael Dudok de Wit. (8:08) (YouTube)
-Salvador Dali's Disney short film, Destino. (6:30) (Playlist)
Trailers, posters, etc:
-A Glimpse Inside the Mind of Charles Swan III looks to be a pretty crazy romp with Charlie Sheen, Bill Murray, Jason Schwarzman, Aubrey Plaza, Patricia Arquette and Mary Elizabeth Winstead. Directed by Roman Coppola. (Apple)
-Young And Wild by Marialy Rivas, which is out now on VOD. (CriterionCast)
-The poster and trailer for Park Chan-wook's Stoker. (Fangoria)
-Luv, a coming-of-age drama with Common. (Apple)
-Made in Mexico, which looks like a pretty interesting documentary about what it means to be Mexican. (Apple)
-Pretty Sweet, a skateboard movie by Spike Jonze that has the most apt titles ever. (/film)