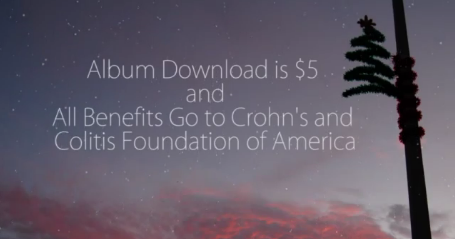 Around the holidays, unless you're the Christmas equivalent of Grumpy Cat, hearts go to mush and hugs are doled out much more frequently, and that's because with the end of the year comes the annual assessment of just who and what really matters in life.
Accordingly, a group of local and regional musicians have rallied around Christopher Costabile, a Tampa musician who was diagnosed with Crohn's disease in 2000 and has been active in raising awareness and furthering research ever since. Their project this Christmas is to raise $5,000 through the sales of an all-original Christmas album ($5), with each song written by a Florida musician, many of whom are said to have found inspiration by playing holiday albums by Frank Sinatra, The Beach Boys and Joni Mitchell. (If you want a physical copy of the CD, you'll need to donate quickly, because only the first 25 people who donate will get a hard copy.)
You can download the album now or learn more about the benefit here.
There will be also an official release party at New World Brewery in Tampa on Dec. 13.