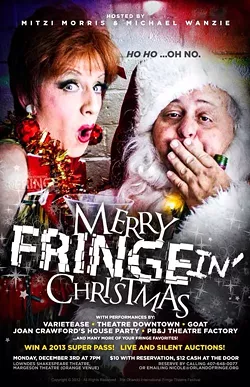 Last night, local arts supporters gathered in Orlando Shakes's Margeson Theatre to celebrate a new holiday traditions. The Orlando Fringe Festival shifted this year's usual Halloween fundraiser to December, rebranding it as Merry Fringein' Christmas.
Festival producer Michael Marinaccio and general manager George Wallace began by welcoming the audience, especially new United Arts CEO Flora Maria Garcia, and announced that a record 95 shows had been admitted into May's festival, which will expand to 15 days with extended previews and "patrons' picks."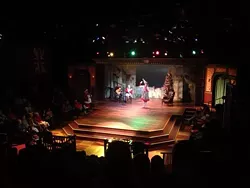 Hosts Michael Wanzie and Mitzi Morris (Kevin Kriegel) made a decidedly unconventional (and anti-family-friendly) Mr. and Mrs. Santa Claus; they were acoustically accompanied by Lanie Jones and Mathew Tonner, who shared sweet songs about psychotherapy and marijuana.
Ironically, several of the artists donating their talents to Fringe's fundraiser weren't actually selected to participate in 2013's festival. Storyteller Bernie O'Brien ranted bitterly about the "dream crusher" who failed to pick his ticket in the recent lottery, prompting Wanzie to wisecrack that they were trying to boost future sales by showing you what you won't see next spring.
Other acts included a scene from PB&J Theatre Factory's Sleigh (featuring Brandon Roberts, Mike Gill, Terrence Yip, and Marty Stonerock); Sheli Inner Beauty Pageant; Pepe (Rob Ward), whose infamous Truth or Dare shows will return in January; Katrina Johnson from GOAT's James Bond Cabaret singing the Skyfall theme; Doug Baaser's Christina Crawford riffing on Steve Martin's classic SNL Christmas wish; and Varietease's Tymisha unintentionally, um, unwrapping her gifts.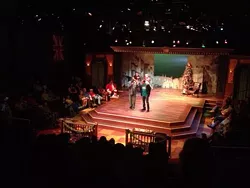 The show's surprise guest was comic Michael Winslow, who gained fame for his vocal mimicry in the Police Academy films. Winslow will have a show in this year's festival, and will host March's fundraiser at Hard Rock Live. After a pair of all-access festival Super Passes were auctioned off for $500 each, adding to the nearly $5000 total raised that night, the evening wrapped up with a full-cast singalong of "Feliz Navidad".