Sympathy for the Devil - Jean-Luc Godard (1968)
One of my favorite lines from Keith Richards' autobiography,
"Life"
, is a simple line that tickles the cinephile in me more than the Stones fan. In a long, complex thought process about the dissolving partnership and friendship of the Stones and their erstwhile leader Brian Jones, Keith gets to the recording of
Sympathy for the Devil
, a time which was being filmed by Jean-Luc Godard. "I'll deal with Godard later," he says simply, before getting back to Jones and his sad descent. Godard could have used a little dealing with at the time, it has to be said, but circumstances being what they were, Godard was afforded a very fly on the wall pass to these recording sessions. What came out on the other end is an enormously frustrating film, wherein Godard shoehorns his own Marxist musings into what is ostensibly a Rolling Stones film in the form of long, meandering vignettes featuring Black Panthers and a lot of spray painted cleverness that could only ever have been a hit with the experimental film crowd. In the middle of this mess (I'm very much not a part of the experimental film crowd) is a glimpse of history, though you get the feeling that anything Godard caught that was special seems to have been purely by accident: history was happening and some of it just happened to be in front of his long, odd dolly takes. Sometimes filmmakers get lucky in spite of themselves.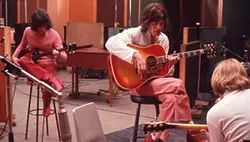 Sympathy
 didn't start out anything remotely like the song we all know today, with its lush psychotic grove and demonic woo-woo chorus. When Mick Jagger first played it for the band it was more of a devilish folk song in the mode of Dylan than the samba madness that greets us at the front end of
Beggar's Banquet
. Godard's lens captures them starting this way, jamming it out as a folk song, showing how the song didn't work as such. In maybe the most interesting piece of any rock documentary, we see the creation of the song, the rearing of it from scratch into the all-time great song it became. When it became apparent the folk angle wasn't working, they jammed it out as a rock song, then a ballad, and then a blues song all before finding the right sound, letting the core of the lyrics ride on a slow, steady crest of layered percussion only to come up for air for the woo-woos and the small Keith solo. The recording spanned the time during the death of Robert Kennedy, turning Mick's Kennedy lyric into a plural, and throughout the film, Brian's separation is apparent. For much of the early part of it, Brian sits alone with his back to Godard's camera, playing an acoustic guitar which doesn't show up in the final mix. It's another part of the style that Godard deployed here that is maddening, because Brian is basically excluded from the film (partly Godard's choice, partly Brian's sporadic attendance). You can really only watch it in one of two modes, either as a Stones can or a Godard fan. It's hard to consider them enjoined because part a, the song, has nothing to do with part b, the Marxist rant, not even on the surface. Thank God for the fast forward button.
*****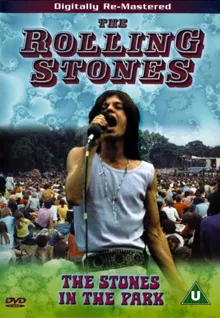 Stones in the Park - Leslie Woodhead (1969)
For Mick Taylor, replacing Brian Jones had to be a nerve wracking experience. Not only was Jones the leader of the band for most of their early years, but he was also a great musician, even if his personality outshined that more often than not. On top of that, what better way to be blooded into a band by playing your first live show in front of 500,000 people with very limited rehearsals and a TV crew following your every move? That's what Hyde Park was for Mick Taylor, though it became something different for everybody else when Brian Jones died two days before the concert, morphing it from a modest comeback celebration into a memorial for a friend who slipped away. And after the debacle at Altamont that would come later in the year, the show would also become a juxtaposition. Hyde Park happened on a beautiful summer afternoon, in front of a relatively docile crowd that was excited to see the Stones, who hadn't played live in two years. Of their many concert films, it's not the sharpest performance ever recorded, but it has something to it. There is a spirit to each song, almost a newness to them since they either hadn't been played in a long time or hadn't been played at all. There is more soul to the overall set, maybe. Playing for Brian shows through the sketchy tuning and missed notes that plague the performance, which culminates in
a crazed 11 minute jam on Sympathy for the Devil
with a black percussion section joining them onstage.
But the show is as much about what didn't happen as what did happen. What didn't happen? No one died, and more to the point, no one was murdered (or shot). None of the performers were punched out by the Hells Angels who also worked security for the band in Hyde Park. It was an afternoon show, not a night show, so things were easier to control. Sonny Barger, president of the Oakland chapter that was running security at Altamont, said he thought the "sissy, marble-mouthed prima donnas" waited until nightfall for the band to come out to have a "dark, scary environment to play Sympathy for the Devil." Indeed, while the rendition in Hyde Park is amazing to hear musically, it is a song that deserves to be played in dim light, or even fire light. (On their current tour,
they play it entirely by bright red stage lighting
.) But if these leather-and-denim(-and-swastika) pussy cats were what the band and their manager Sam Cutler thought the Hells Angels were like, it's no wonder they never gave it a second thought at Altamont. In
"Let It Bleed: The Rolling Stones, Altamont, and the End of the Sixties"
, author and Stones tour photographer Ethan Russell makes a point of adding quotation marks around the English biker lads, calling them "Hells Angels", separating them completely from Sonny Barger's no-joke biker gang with a measure of respect and disgust for the Oakland bruisers and their pool cues. Somewhat inadvertently, the bulk of the research I ended up doing for this series ended up being about Altamont (and
Exile
), just because it's the most written about time in the band's history.
Rolling Stone Magazine
dedicated a whole issue to the aftermath; Barger dedicates an entire chapter of his autobiography,
" Hell's Angel"
, to it; there is also 
"Let it Bleed"
,
"The True Adventures of the Rolling Stones"
, and of course
Gimme Shelter
and its various booklet essays. But I'm going to skip over Gimme Shelter because what else is there to say that hasn't been said? If you've seen one Rolling Stones documentary, it's probably Gimme Shelter.
NEXT: Exiled in paradise with Bobby Keys and Billy Preston
 *****
Part I | Part II | Part III | Part IV | Part V