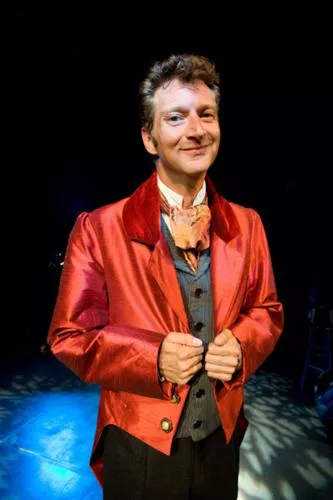 Florida Opera Theatre's director-in-residence Eric Pinder
In this week's Live Active Cultures, you'll find my interview with Eric Pinder, the new director-in-residence of the Florida Opera Theatre. Due to space limitations, we were only able to print about half of my interview with Eric, which covered a wide range of opera-related topics. Below, enjoy some exclusive extra excepts from the interview, including Pinder's opinions on...
...his first encounter with opera:
I was a classical music fan [before college], but opera actually seriously bored the crap out of me. I'm one of those people that made that huge transition almost overnight... Mine was Richard Strauss' Electra. It's a dissonant 20th century opera, it's one act, it's loud, it's just insane. The more I studied it the more fascinated I became with how the music is the drama.
...learning to love Mozart:
It took me a long time to get into Mozart. I always enjoyed the arias, but the recitative bored the shit out of me. Once you get to study it and realize that the recitative is really where the drama is.... The stuff that you think is the most boring is the stuff that really is the most fascinating, and gives you such insight into the rest of the drama.
...Robin Stamper, FOT's musical director:
We're fortunate enough to have Robin Stamper who is just amazing. I don't think people really appreciate his gifts enough in this town. He plays for the Met [New York's Metropolitan Opera Company] council auditions, sometimes meets singers that day and he's never played for them, and accompanies them. He's very modest about it, but he's one of, I think, the foremost musicians for opera in town, so we're very fortunate to have him do it. And I liked working with him, we had a great time together.
...performing Gianni Schicch in English:
[Translation] is a great boon....It's amazing. When you have the titles, it helps, but you use two different parts of your brain when you're reading as opposed to watching, and so it's much more immediate.
...operatic conventions:
I've been staging opera in my head for so long. When I first heard it, I never saw opera; the first operas I heard on disc, or cassette tape or god forbid LPs, vinyls I got out of the music library. So I never saw any of these operas, so in my head I staged them. And then when I finally saw opera, I was actually disappointed. Park and bark is the generic term for just standing there, putting your arm out, and singing your aria and not moving. My approach [to staging] is not so much that you have to move constantly, but when you move it has with a purpose, there has to be a reason behind it. You're not just wandering the stage as you sing. Opera is overblown anyway, let's face it. It's a huge artform with people essentially screaming constantly. That was one of the things that took a long time to get used to.
...directing theatre vs. opera:
Music works differently than words do... The words are important, but in opera a lot of time you don't understand what people are singing. And if they're singing in groups, they often not all singing the same words, so it's cacophony anyway. When you do a play, when you work with an actor, you say 'why don't you think about pausing before this word?' [In opera] the composer has already done that work for you. The composer has told you where the pauses are, what gets louder, what gets softer, all of that is done in the music. Your job as director then is to say 'where are the transitions?' [and] making the visual pictures.
...making opera less formal:
Our mission is to try to get as many people to see opera as possible...to be more accessible to people....Last night there was a guy who came in shorts and a T-shirt, and he said 'I'm sorry I didn't dress up.' I said, 'no, you're here!' At this point, I'm just so glad people are in seats. I have no problem with how they dress. We don't need to present it as this dress-up museum piece.
...opera vs. hockey, Pinder's other passion:
I can say that hockey is shorter, in most cases. I get as emotionally involved following [hockey] teams as I do in opera. I think the thing they have in common most is oversized costumes.