Stones in Exile - Stephen Kijak (2010)
While the Stones celebrate their 50th anniversary in 2012, something that's managed to sneak a little beneath the radar is that perhaps their best album, or at least their most pure "Stones" album,
Exile on Main St
, is celebrating its 40th anniversary. Today its hard to imagine a time when the Rolling Stones were in such a precarious financial situation, but being exiled from their home country could have been the best thing for them at the time, at least musically. To get away -- to be forced away -- from all of the possessive nonsense, away from their traditional influences and schedules and comfort zones and, most importantly, an overzealous police force, ended up creating a singular event album, a widely styled mish-mash of blues and rock and a little whiskey-soaked country , with one of the greatest side 1, track 1s ever put to tape. It feels as new today as it did the first time I heard it sometime in the early 90s, and probably sounds just as alive as it did when the first bunch of kids pulled the cellophane off and threw it on the turntable. Recorded mostly in Keith Richards' villa Nellcôte in the French Riviera, with the most classic Stones lineup (even if they were rarely in the same place at the same time) in a haze of drugs, booze and decadence, and funnily enough
surrounded by children
,
Exile
is one of those once in a lifetime type happenings, a double album of excess and brilliance, recorded in fits and starts in three day marathon sessions followed by as much off time as Keith needed to recover. The stories are wild and legend, and almost none of them are captured here. Keith Richards writes of them in his book,
"Life"
, as does Bobby Keys in his book,
"Every Night is a Saturday Night"
(both of which you should read), but the cameras only caught a frustratingly small amount of the recording sessions in the small, hot basement at Nellcôte -- Charlie off in his own room, Keys and Jim Price in the hallway with their horns, Keith roving around playing wherever he happened to be, all being fed into the mobile recording truck in the driveway. The drugs, Mick and Bianca's wedding, the trolling around the Riviera in Keith's boat, Mandrax, the movie stars -- all of that is absent from what is a relatively straight forward documentary released originally as an extra feature with the mega-super-deluxe edition of the remastered
Exile
CD in 2010 (it also premiered at Cannes).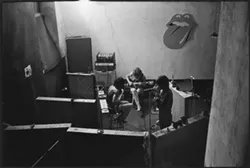 It's cut in part from pieces of Robert Frank's famously banned documentary,
Cocksucker Blues
, but not entirely. Frank shot the various photos for the gatefold cover before going behind the scenes, and like Frank's notoriously intimate documentary of the band, Stones in Exile is anchored by the recollections of a photographer as well.
Dominique Tarlé
, the French rock photographer, was around for many of the sporadic sessions, taking some of the most iconic photos of the band at work and at play. Telling his stories to the camera, he still has that same "holy shit, I was there" look on his face that some of the extended band members, like Keys, have wrapped around their faces. But unlike Bobby, Tarle seems to hold back. It's a stock documentary, a good one, but still stock. Even though the camera was in the room with the band, the film is cut up with talking heads, like Martin Scorsese and Cheryl Crowe, that suck the life and flow out of the picture. A few years ago I might not have minded it, but the documentary
Senna
, about the F1 racer Ayrton Senna, which is also a stock footage documentary told by survivors, features no talking heads, just the speaker's voice, and it imbues the film with a life and immediacy that no stock footage doc really has a right possessing. It's ruined me for documentaries, perhaps. But in being there, the footage could have been arranged in more of an in-the-room style, like Maysles' or Frank used, just cutting back and forth between the existing footage and whatever comes out is what comes out. Even so, it's essential viewing for Stones fans, or fans of rock n' roll history, as it does capture of some piece of the most pure, magical moment in recent music memory. Sometimes its for the best that wild stories are just word of mouth, even if they pick up distortions and amplifications along their way, it only makes them better, more fun, like an x-rated game of telephone. Rock n' Roll isn't reality, its fantasy, and fantasy is always better in words than images.
 *****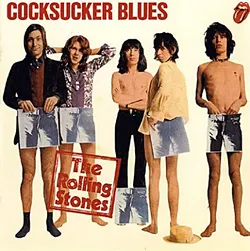 Cocksucker Blues - Robert Frank (1972/73)
If there is a Holy Grail of rock n' roll documentaries, then surely it is Robert Frank's blunt, fly-on-the-wall behind the scenes film of the 1972
Exile
tour of America. But is it a great documentary? Is it a great film? It's a special film, one that captured a time that could never be duplicated, if only because of how much of it was of dubious legality. It falls neatly, I think, under the "interesting" heading, rather than in any specific category of greatness. It's legend comes almost entirely from the fact that it's banned by court order from being (legally) shown more than once a year, and never without Frank in the audience. The Stones, somewhat understandably, don't want anyone to see this highly personal film. Of course it's been bootlegged to death, both on VHS and DVD -- the DVD I have is from some umpteenth generation copy that barely has any definition or color left to it. Frank seems to have almost been hiding behind walls and in closets to have gotten some of the footage he ended up with, but another part of that is that there were extra cameras around that anyone was allowed to pick up and shoot anything they wanted to. There are long sequences where Mick and Bianca have the camera, shooting into mirrors and such, but its not always clear who has the camera, just as its not always clear who is being filmed -- most of the time its not the Stones, it's the entourage that accumulated around them, groupies, roadies and the
Freddie Sessler
 types.
Today, though, it seems fairly tame, almost a parody --
This is Spinal Tap
 with a different band as its target. Famous shots, like Charlie Watts' cold sores and Keith and Bobby Keys throwing the TV off of the roof do seem like parody at this point. The TV incident especially, becomes almost a grand piece of slapstick, watching Keith and Bobby unplugging all of the wires before their (staged at the request of Frank) moment of rock star decedent destruction can take place. There would be moral outrage at some of the antics on the plane with roadies stripping some of the groupies quite probably against their will, or with lies about getting them into Mick or Keith's bed, and it would be a justified moral outrage, but this is fucking rock n' roll anyway, no one is supposed to give a shit about morality on the road. The road is Oz, but Dorothy doesn't make it out with her virtue intact. The rest, though, the sex and the drugs, would barely phase us anymore. We've seen nudity, we've seen people do coke and heroin on screen, and nod off and have bad hits. We might have worried for Keith, who looks in rough shape for much of the time he's not on stage, if we weren't basically positive that he'll outlive us all, but by today's admittedly fucked up standards it's not a terribly shocking film anymore. We've even seen much of the "safe" footage in other documentaries already, like
Stones in Exile
 and
Crossfire Hurricane
 and the collection of performances dispersed throughout are not the best collection, except when Stevie Wonder, who opened most of the dates, comes out to jam with them. Like the Beatles' original Let It Be (another bootleg I have off of a terribly deep generation VHS), the Stones should release it for its anniversary next year and be done with it already.
NEXT: Hal Ashby, Marty Scorsese and the Greatest Hits
*****
Part I | Part II | Part III | Part IV | Part V