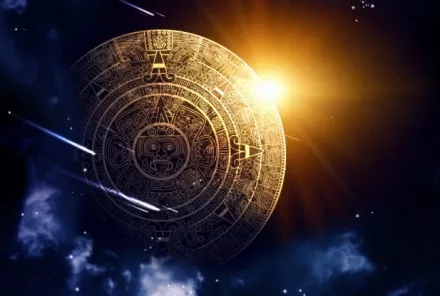 Above: the Mayan Calendar. It even looks like a drink coaster.
Above: the Mayan Calendar. It even looks like a drink coaster.
On December 21st, if certain doomsday prognosticators are to be believed, the friendly neighborhood Mayan Apocalypse is coming to explode your face off. Or not -- either way, like Saint Patricks Day with more hellfire, a fantastic excuse for excess is nigh. Thankfully, some local bars and restaurants have bolted down the furniture, boarded the windows and prepared end of the world parties for tomorrow (and tonight, too). So if the Mayan calendar reaches zero and we all go out in a cloud of vapor, at least we can expire with a glass in hand, with style.
World of Beer -- "La Fin Du Monde" End of the World Parties
Tonight, Orlando locations
Friday, December 21st (Lake Mary location)
Unibroue's infamous belgian-style tripel has never been on tap. Better now than potentially never, right? Stop by your local World of Beer to nab a glass of "La Fin Du Monde" -- or "The End of the World" -- and savor a hazy, citrus-and-clove delight as you carouse with friends. Added incentive: the stuff clocks in at 9% ABV, which is important because, you know -- getting sloshed for the apocalypse.
Oblivion Taproom -- End of the World Party
Friday, December 21st, 4pm -- 2am
5101 E. Colonial Drive
Orlando, FL 32803
(407) 802 4800
See all the reasons above to attend World of Beer -- La Fin Du Monde on draft, wild debauchery and abandon -- but throw in a sacrificial food baby to appease the Mayan gods, courtesy of Oblivion Taproom's delicious burgers, wings, and more. Also, they claim their building is mostly concrete, therefore less flammable and comparatively more armageddon-retardant, so there's that, too.
T.G.I Friday's -- The Last Friday
Friday, December 21st, 7pm -- 10pm
5933 Caravan Court
Orlando, FL 32819
(407) 903 0338
Friday's, you have earned yourself a slow clap. The restaurant chain launched a website, www.thelastfriday.com celebrating our imminent demise and advertising apocalypse-ready entrees/drinks like "mayan margaritas" and "The Final Countdown". It's a sinfully good warm toffee cake topped with glazed pecans and vanilla ice cream and-- okay, it's basically the same old Friday's affair with kitschy names to capitalize on the Mayan doomsday fervor, but for some reason I find it unexpectedly charming. You can grab any of these specials and more at your local restaurant, or you can hit the Orlando "The Last Friday" block party at the address above.
The Social -- End of the World Dance Party
Friday, December 21st, 8pm
$7 at the door, 18+
54 North Orange Avenue
Orlando, FL 32801
(407) 246 1419
There's always been something apocalyptic and decidedly awesome about rockabilly for me, so it just seems apropos for rockabilly masters Rocket 88 to rile things up at The Social's End of the World Dance Party. You can jive and two-step armageddon until it's bruised and embarrassed -- a pretty swell way to go out -- but there's also R&B group Eugene Snowden & His JC Jumpers and ska band Control This! to send you caroming off fellow concertgoers.
Eternal Tap -- End of the World Party, Hosted by Shock Top
Friday, December 21st, 3pm
116 W. Church Street
Orlando, FL 3280
Shock Top wanted to throw a party celebrating the launch of their new "End of the World Midnight Wheat" seasonal ale, and Church Street newcomer Eternal Tap is giving them the bar to do it in. Eternal Tap's battered brick exterior, wood-paneled insides and "speak easy" cellar made for a pretty easy choice. Look for the Shock Top Beetle parked outside, zombie films projected against the outside wall, and roving go go dancers. Come for the $2.50 Shock Tops and $6 pizzas; stay for the doomsday.