The comedian
Barry Sobel
once recalled that, when he was growing up, everything seemed to be happening "at this hour." "Where are you going 
at this hour
?" his parents would demand. "Who could you be calling
at this hour
?" And they'd mock him mercilessly whenever he dared pick up the phone at a time when no decent person could be on the other end of the line:
"Please come over and kill me! I'm up at this hour!"
Sobel: A schlemiel before his time
These days, we live in a culture predicated on everybody knowing everybody else's business, 24/7 and in real time. Yet those of us who had a more Sobel-like upbringing can't help but wince a bit when we see our friends on Facebook and Twitter announce to the world just where they're currently kicking up their heels, and with whom, and how far from their house (whose numerous points of easy entry are helpfully displayed on Google Earth).
"I'm out having Thai at this hour! Please come by my home and rob me!"
When you start thinking thoughts like this, it's usually time to admit to yourself that you're just a few short years from test-driving a Hoveround. But every once in a while, something happens that makes people of all ages realize that a little privacy isn't a bad thing every now and then.
I'm thinking of the outcry that rightfully arose after the White Plains, NY, Journal News posted an interactive map of local gun-owning households. It was the sort of decision that makes people of just about every political orientation wonder "What were they thinking?" But as with almost any consensus in 21st-century America, this one quickly dissolved into partisan rancor.
Conservatives on the Web went apeshit – even by their usual standards of simian excrescence. The newspaper, they fumed, was trying to marginalize and punish their ilk by exposing them to the public like common sex offenders. (Suggest in response that sex offenders, too, might have a certain right to privacy, and you'd probably be met with a very quizzical look.) There was also some justifiable concern that, in revealing just which residences aren't protected by Smith and Wesson, the newspaper had recklessly endangered its constituents on the other end of the gun-control debate.
Yet there's a central irony here upon which few have seized: In decrying the Journal News' bonehead play, America's gun fanciers are admitting that firearms aren't anywhere near the surefire intimidation devices they like to claim.  Were a loaded rifle and a semi-trained owner the answer to every home invasion, said owner's response to seeing his address in the paper would be little more than "Bring 'em on." Instead, the resulting chorus of "How dare you" blog posts constituted a tandem admission that gun ownership isn't an automatic guarantee of safety --  and that it's actually an incitement to burglary, rather than a deterrent.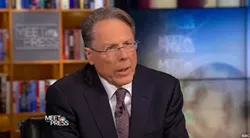 Grey lady down: Don't even think about it, punk.
We hear that sort of self-defeating rhetoric in action every time the NRA's Wayne LaPierre (pardon the expression) shoots off his mouth. Still on a blood-sugar high from his bizarre press statement of last Friday, LaPierre appeared Sunday on NBC's Meet the Press to double down. Too much of the discussion of that segment has centered on the degree to which host David Gregory may or may not have broken the law by brandishing an authentic high-capacity clip live on the air. (A more salient question: What laws does David Gregory break simply by being David Gregory?) Instead, I'm struck by a statement LaPierre made in the course of propagating his now-infamous case that armed guards should be on hand in seemingly every walk of American life.
In his frothing diatribe of last Friday, he had listed many of the hallowed institutions we customarily protect at gunpoint, reasoning that we must not value our schoolchildren nearly as much. On Meet the Press, he added that "most of the media" likewise enjoys armed security – which inspired representatives of the Fourth Estate to respond with an indignant "No so!" Yes, the guardians of our freedom are absolutely and helplessly unprotected. And they want the world to know about it!
"Even in Kabul – yes, Kabul – the NYT has no armed guards," tweeted the New York Times' Matthew Rosenberg, in one of the more impassioned rebuttals. He clearly meant it as a righteous dismissal of the "more guns, more freedom" ethos -- although I think the night doorman at the paper's Manhattan headquarters might have read it a bit differently: "I'm working at this hour! Please come over and kill me!"
All kidding aside, here's the point LaPierre isn't getting: Retaining armed guards is just one way in which we secure our public and private spaces; another is to simultaneously prohibit private citizens from bringing their own guns on the property. LaPierre likes to remind us that Congress gets armed protection, which in his view makes them hypocrites for even considering gun-control legislation. But even the trigger-happy legislators who receive an "A" rating from LaPierre's organization wouldn't think of allowing ordinary civilians to bring loaded weapons onto the grounds of Congress. It's forbidden. How come? Because armed citizens are dangerous, no matter their intention. And our lawmakers know it.
The NRA's business depends on blurring the line between trained peacekeepers and zealous vigilantes. For an organization whose central apologia is "Guns don't kill people; people kill people," they sure seem to believe that a gun in just about anybody's hands is equally effective. And even though the association's support among the general public remains worrisomely high, I don't think that particular plank of its platform enjoys anywhere near as much popularity. Just because the police are entitled to certain resources in the fight against crime, it doesn't mean Joe Average is entitled to them, too. If we "need" guns to protect us from each other, why not other tools of the lawman's trade – like, say, a detailed list of every gun-owning household in a certain area?
The answer is because it's none of our business. And neither is it our business to play cop just because some fringe group of Second-Amendment absolutists says we can. Let's keep the "private" in "private citizen." And we'll all sleep better -- at this hour.