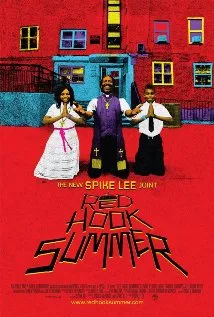 As we get set for the new year, we looked back at some of
the most underrated films that came out this year in the paper
. Time and space (and shitty writing) only allowed for a few of the many to be noted, so we take to the blog to point out a few more worthy candidates we want to scream from the top of the mountain about.
2 Days in New York - Julie Delpy (DVD, Netflix)
2 Days in New York
doesn't exactly continue where
2 Days in Paris
left off, but takes us to a whole new story in Marion's life, where she has broken up with Jack and moved in with Mingus, a liberal blogger and radio show host played by a perfectly subdued Chris Rock. Much like the subdued Adam Sandler in
Punch Drunk Love
, Rock works better as a toned down everyday guy. Marion's family (and ex, Manu) are the only real carry overs from the story, but the comedy is exactly the same, though it is more developed and carries more of an American edge to it this time. It's the better film of the two, as Delpy's instincts as a filmmaker have grown a great deal over the years.
Beloved - Christophe Honore (Netflix)
Honore has never quite got back to the greatness he showed in 
Love Songs
, but Beloved doesn't miss by that much. There is a little bit too much too it in terms of scope, with the film trying to hit some heavy themes -- like the Russian invasion of Czechoslovakia in 1968, AIDs and 9/11 -- by skirting around them and falling back into song. My lone wish for the film would be that it either go harder at the musical genre or skip the songs altogether. There aren't enough of them strung together to really make a satisfying musical, but it's a satisfying drama and then there is a strange singing break. Still, it continues to grow in my head the more I think about it. Milos Forman does an interesting turn as the father, and two of my favorites, Louis Garrel and Paul Schneider, are featured, but it's all about the women: Chiara Mastroianni, Catherine Deneuve and Ludivine Sagnier are divine, all of them.
Bleak Night - Yoon Sung-hyun (Netflix)
This tough South Korean drama is a clever, wrenching take on the coming of age high school bully drama. I fucking loathe the word bully -- it's an adult word, I never heard anyone use it as a kid. We just said "that asshole" or something along those lines -- but it is in its proper usage here. It's a devastating film if you've ever been fucked with, maybe even if you were the one fucking with people. The film runs in roughly 3 commingling threads that are a little difficult to place in a timeline at first, but once you put it together makes perfect sense and becomes an engrossing film. Like most non-linear films, it's better on the second viewing when you have everything in order, but there is something inescapably great about a first viewing where you are just trying to get your footing and the film won't let you.
Goodbye First Love - Mia Hansen-Love (VOD, Netflix)
Though she's been around for a few years already, director Mia Hansen-Love announced herself as a director of serious note with this coming of age drama set in and around the aftermath of a first love affair gone wrong, which leaves a shattered Lola Creton trying to pick up the pieces of her life. It's an emotional epic that leaves the perfect gaps between the chapters of her life for us to fill in the blanks. Boy or girl, Creton is east to empathize with unless you're some kind of monster who has never had your heart broken.
Killer Joe - William Friedkin (Coming Soon)
I don't really want to say too much because I think this is exactly the kind of film you should go into with as little information as possible and just let the psychosis of the story wash over you. McConaughey is a madman genius (who knew? but what a great run going back to last year's 
Lincoln Lawyer
), and its great to see Billy Freidkin make another great film.
Monsieur Lazhar - Philippe Falardeau (DVD, Netflix)
If this were my actual top 10 list,
Monsieur Lazhar
would likely be at the top of the pile this year. Indeed, this powerful film can boasts two 5-star reviews from this paper alone, something we don't usually do. Mohamed Fellag and the young Sophie Nélisse take turns stealing scenes from the rest of the cast in this French-Canadian drama about the different forms being spiritually lost can take.
Oslo, August 31st – Joachim Trier (DVD, Netflix)
Originally, I thought this was a quickie film about Anders Brevik, but it very much isn't. Loosely based off the same Pierre Drieu La Rochelle novel as Louis Malle's
The Fire Within
, Oslo features a startling performance from Anders Danielsen Lie as a newly reformed junkie wading back into his old life, getting a withering taste of it from a new perspective, and finding out how difficult it is to change, especially to go back.
Red Hook Summer - Spike Lee (DVD, Netflix)
While I absolutely loved
Red Hook Summer
(as much as you can "love" something that contains as fucked up but kind of lame and expected a plot twist as this), it would be something I would hesitate to recommend to others. Nevermind all of the "Mookie is back" stuff -- he's barely in it -- but this is the old, old school Spike Lee that's come back. The film is shot quick and off the cuff, mixing various DV sources (like the Sony F3 and the iPad2) that really captures Brooklyn at its most colorful self, the spirit that exists in each neighborhood and the diversity within the similarity. Even though that spirit is different for each neighborhood, someone from Flatlands or Bensonhurst can still recognize it as being a smaller part of the whole. So it's probably more of a birthplace pro bias working on me, which is why I'd hesitate to recommend it.
Your Sister's Sister - Lynn Shelton (DVD, Amazon)
Everyone is calling it the year of Channing Tatum, and it's hard to argue that, but just by sheer force and the number of projects he's been involved with this year, it's sort of the year of Mark Duplass too. He's been everywhere this year, from the low-key
Do-Deca-Pentathon
through to the Oscar-favorite 
Zero Dark Thirty
(which opens Orlando in mid-January). He's a little more toned down in
Your Sister's Sister
than he is in
Saftey Not Guaranteed
, but he's the same charming, bumbling dude's dude that steals your affection with his dopey smile. Lynn Shelton just keeps getting better with every film she makes, and it's it's kind of a shame that the success of
Moonrise Kingdom
 knocked this out of Enzian's schedule over the summer.
Turn Me On, Dammit! - Jannicke Systad Jacobsen (DVD)
It's actually kind of an embarrassing blindspot in the film world that there are so few straight up sex comedies about girls, and while that isn't totally remedied by this one film, it's a great start. Half of me wants to call it brave, but its more that its just an honest film from an unfamiliar perspective. Honesty is bravery a lot of the time, but I'm not sure it applies here. It's just that Jacobsen's adaptation of Olaug Nilssen's novel finally lets boys into the conversation that's existed the whole time by a particularly smart move (from a boy's point of view anyway), having a boy be the villain but not having boys in general be the enemy.