If 
Lincoln
ends up winning this year's Best Picture Oscar, how early in the night will
Karl Rove
admit it?
Maybe not all that quickly, now that electronic voting seems to be turning the Academy's process into the same nightmare of illegitimacy that is our American elections system.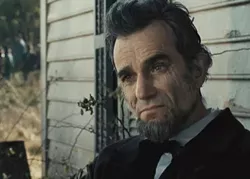 Honest Abe ponders the consequences of winning ugly.
The deadline for submitting Oscar nominations has been extended to tomorrow, Jan. 4, in large part due to the widespread problems AMPAS members have reported in trying to cast their ballots online. The Hollywood Reporter's Scott Feinberg, who has been tracking the controversy, quotes sources as calling the Academy's first-ever experiment in online voting a "disaster." Passwords are being rejected, voters are being locked out of the system, and deadlines are in danger of being missed. Disgruntled members are worried about the integrity of the system, while others are concerned that the entire off-putting experience will lead to record-low participation.  Meanwhile, the e-voting company that developed the software -- the ironically named Everyone Counts -- has no comment.
Sound familiar? It's like a dramatically compressed version of the pitched battle in which American democracy has been embroiled ever since touchscreen voting and other forms of paperless balloting were introduced. For all the talk that Hollywood is divorced philosophically from the rest of the nation, the parallels here couldn't be clearer – right down to the apparent P.R. campaign that's being waged to cast opponents of the new process as befuddled technophobes who are simply standing in the way of progress.
Advocates of fair and open elections are used to such denigration. The evidence is vast that electronic voting has reduced our governmental contests to a sham of flipped choices and unverifiable tallies. Yet even in this last campaign cycle, mainstream-media lapdogs like NBC's Chuck Todd were dismissing such concerns as tinfoil-wrapped wingnuttery. Even the respected Snopes.com got into the act by posting a ludicrous "debunking" of the potential for electronic election fraud in Ohio.
So it's more sad than surprising to see AMPAS characterize the meltdown of its online voting system as simple confusion – just a matter of members "forgetting or misusing passwords," as a spokesman told THR's Feinberg. Elsewhere on the net, surrogates are conducting a full-on smear campaign to blame the problems on aged Academy voters who barely know how to turn on a computer.
You know THIS guy would have something to say about it.
That would apparently extend to fossilized old Luddites like 42-year-old Morgan Spurlock, who provided Feinberg with a detailed rundown of the ridiculous obstacles he has faced in trying to cast an online ballot – none of which, he claims, were his fault. (On Twitter, Movie City News columnist David Poland backs up Spurlock's account, noting "I've heard it from a # of under-50s.")
All of that would be bad enough were the risks limited to simple error. But an insecure system is a gateway to intentional malfeasance, as one of Feinberg's anonymous sources notes in describing the Oscar voting site as "an obvious target [for hackers]," and "not
exactly the Fort Knox of sites.
"It's probably more difficult for members to log on than it is for hackers!" the source assesses.
It's hardly inconceivable that a studio would resort to tampering with a fragile system to push its product over the finish line. The competition for major awards seems to get nastier and more underhanded every season. And after all, these are people who spend most of their business year anonymously talking down competing projects on show-biz gossip sites. Some of those sites, you will notice, now present equally anonymous invective against "the old guys [who] couldn't figure out how to use the internet" – i.e., the fuddy-duddies who would prefer the accountability of a paper ballot.
And how does the Academy respond to the fear of an Oscar hijacking?
"We have to balance the opposing needs of convenience and security," the AMPAS spokesman told Feinberg.
Read that again: convenience and security are now "opposing needs." But if you can't guarantee the integrity of your awards, why bother handing them out at all (unless you're prepared to institute new categories like "Best Performance by an Actress in a Convenient Motion Picture")?
Yet this is the same tradeoff a vast number of us are expected to make whenever we cast a vote for mayor, or senator, or even President – especially in the wake of a disaster like Hurricane Sandy, when we're assured that online voting will be available to us if we can't make it to the polls. Hey, it ain't secure, but it's convenient.
So far, at least, members of the Academy have had a leg up on the American voter in general: They were allowed to choose between online voting and the customary paper ballot. And if they didn't declare a preference, they were sent a paper ballot automatically.
That courtesy needs to be extended to every U.S. citizen. The universal right to a verifiable paper ballot has to be upheld. Otherwise, we're admitting that the fate of Les Miserables is more important than the future of the nation.
Perhaps this is an area in which Hollywood can lead the way in a positive sense. We just need one Oscar winner to stand at the podium, hold his award aloft and challenge the worldwide audience, "Hey, who knows if I really won this thing or not?" And then maybe we'd see some progress on the voting that really matters. It's an ass-backwards way to go about preserving democracy, but for now it might have to do.
UPDATE 3:42 PM 1/4/12: Last night's Late Night With Jimmy Fallon monologue included a joke about the "older members of the Academy" who were unable to cast their nominations online. No mention of Morgan Spurlock or anybody else under 50.