When it comes to documentaries, it's nothing short of the Wild West out there. There are just so many, from theatrical to television to stuff that just shows up on Netflix or Hulu one day in your recommended list, and it's so difficult to judge them by their posters or trailers because, honestly, most documentary posters look like a sixth grader fucking around in Photoshop. But unlike the Underrated Films lists I did last week, this is a little more straight forward: these are just the 10 best docs I've seen this year, and its a mix of all three categories. As always, there were docs I didn't get to see and wanted to -- stuff like
Detriopia
,
Mea Maxima Culpa
,
Brooklyn Castle
,
How to Survive a Plague
,
This Is Not a Film
and
The Invisible War
-- just because there isn't enough time in the day to watch everything I want to. Likewise, there was stuff that I really enjoyed but didn't carry enough weight, like Rory Kennedy's
Ethel
, Stacy Peralta's 
Bones Brigade: An Autobiography
, NBA TV's 
The Dream Team
, Andrew Bird's
Fever Year
 and the digital vs film doc, 
Side by Side
. There was also a bit of a fatigue factor when it came to West Memphis Three documentaries -- both
Paradise Lost 3
and
West of Memphis
were good films, but very difficult to separate from one another and neither really addressed the issue I was most interested in outside of the murders, the story of the friendship at the time or now of the three released men. In West of Memphis, Jessie Misskelley's father says Jessie was scared of Damien Echols, and there was a NY Times article a while ago about how none of the three speak to each other any longer, but it's never really explored. (How can you not explore something like that?) West of Memphis was the closest to making my list of 10, but I backed out on it in the end. All in all, it was a very good year for documentaries and they're becoming much easier to get a hold of these days just between Netflix, Hulu and Amazon Prime, giving us less excuse to put them off.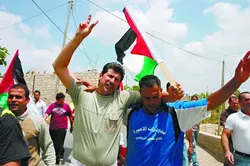 01) 5 Broken Cameras - Emad Burnat, Guy Davidi (Hulu+)
I'm not sure if I've ever had my preconceived notions of what a film would be more upset by the reality of the film than I did with
5 Broken Cameras
. Even hearing great things about it, I went into it with trepidation, expecting a straight forward anti-Israel film, but instead found an existential horror film with a deep love at its core as the film's narrator and co-director Emad Burnat tells the story of a small village on the border with Israel through the six cameras he's managed to come by, five of which were broken during demonstrations by Israeli soldiers. It's a story of family, of home, of theft, and, ultimately, and most startlingly, of abandonment.
02) Searching for Sugar Man - Malik Bendjelloul (Coming Soon)
It's not hard to be skeptical about this documentary when you first start it. It plays a lot like Woody Allen's
Sweet and Lowdown
, about the second best gutarist in the world, the one no one's ever heard of -- because he never existed. I hadn't heard of Sixto Rodriquez, and it seems no one outside of his family, friends and the entirety of South Africa had. Is this a hoax, like
Fargo's
"based on a true story" tagline? No, he's real. But it's not actually that hard to believe that a guy like Rodriquez could slip through the cracks. If you've ever been to a used record store and looked through the stacks at all of the weird, unheard of acts, you realize most musicians do fall through the cracks. The stranger part is how big a musician can be in one relatively small country, thousands of miles away from home. That he was is what makes this such an interesting piece though.
03a) Indie Game: The Movie - Lisanne Pajot, James Swirsky (Netflix)
My idea of a great game never really evolved past NES, especially the classics like Tetris and Super Mario, but there is something so compelling about the process of creation, and the different types of personalities it takes to create a great video game. If Ebert is right in saying that video games can't be art (who really cares if they are or not?), at the very least we can say the story of their creation can be art.
03b) The Ecstasy of Order: The Tetris Masters - Adam Cornelius (Amazon Prime)
Speaking of Tetris... this is completely a personal bias pick on my part. There were punchier documentaries made this year, but not many of them were about something I love as much as Tetris, and especially the comeback story of Thor Aackerlund, who is perhaps the greatest Tetris player alive.
05) The Imposter - Bart Layton (Coming Soon)
The Imposter is as frustrating as it is riveting. It's riveting for horrible reasons, because one mad Frenchman named Frederic Bourdin pulled off, for a short time anyway, such an astounding feat of outright fraud, and its impossible to look away from his deceitful, convincing eyes the entire time he's on screen, especially the way Layton works the cutaway shots. It's frustrating for an even more horrible reason: almost 20 years later and Nicholas Barclay still hasn't been found.
06) Dreams of a Life - Carol Morley (Netflix, Hulu+)
One of the most common thoughts I have when I see a documentary is, "how could that have really happened?" But nothing in any documentary can really prepare you to confront the idea that a woman died in her apartment and no one noticed (or cared) for three years. No one. A quite attractive, popular girl, even. No one noticed. Fucking how? And because no one noticed, because she was just dust and bones by the time she was found, there really can never be a satisfactory conclusion to the question "how?", but perhaps equal in horror is the doubt this film puts in your mind about whether anyone would notice if you just died on your couch one day.
07) The Interrupters - Steve James (Amazon Prime)
It's hard to even know what to say about this story. It's almost entirely heartbreaking but in some sense is also uplifting when the Violence Interrupters succeed in throwing their bodies in between the mostly youth related violence on the streets of Chicago, in neighborhoods that are eating themselves alive. But even the positive parts end up heartbreaking because of the one step forward, ten steps back nature of street violence.
08) Jiro Dreams of Sushi - David Gelb (Netflix)
I hate sushi. All seafood, really. Most of family is allergic to shellfish, so we never really had any kind of seafood growing up and its a food I never adapted to as a kid. I tried the Jeffrey Steingarten thing to just forget what I didn't like and retry everything, but seafood didn't make the cut (most things didn't). So Jiro's sushi would be wasted on me, but I could still sit there and watch he and his eldest son, Yoshikazu, make sushi all day long. Gelb frames the story so perfectly, it's more of an artform in this light than food -- I'd feel bad for eating it to be honest, like chewing a bite off of a Rothko.
09) The Queen of Versailles - Lauren Greenfield (Netflix)
Ah, our local celebrities in the documentary race this year. This is the film that wouldn't die once it opened at the Enzian, playing for far too many weeks in a row, but it just kept hitting its holdover threshold. For me, the film doesn't totally gel as a whole, even if it does serve as a great peek into the window of the working and machinations of the rich during our recession. It's a very difficult family to feel any empathy or sympathy for, and hanging all of your emotions from the film on the nannies and left behind high school friends doesn't quite stretch out for its hour forty running time, but there is undeniably something here worthwhile. Greenfield was in the right place at the right time, witnessing a somewhat modern Citizen Kane/W.R. Hurst story play out live in front of her cameras: the old man in his ridiculous castle with his aging trophy wife and money woes. This film will age gracefully (and without any plastic surgery), but the incident of the recession is still a little too near. In 20 years, econ students will probably have to watch this as a class requirement.
10) Knuckleball! - Ricki Stern, Anne Sundberg (Amazon Prime)
One simple, impossible pitch has the power to make the world's greatest hitters look like weekend beer league players. The pitch is so elusive that since the release of the film, half of the pitchers who could throw it have retired. When I say half, I only mean one, because only two pitchers could throw it: Boston's Tim Wakefield, and the Mets' R.A. Dickey, who has since been traded to Toronto, and is the last man throwing it (though surely high school kids all over the country are learning how to master it now). The mechanics of the pitch is an interesting story itself, but more interesting is the ornery personality of the men in the history of the game who have been able to succeed with it.