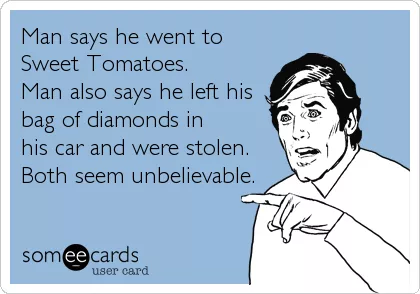 Huffington Post reported that "Rajesh Jain, a diamond wholesaler traveling on business, told police that he'd left a bag with loose jewels in it on the back seat of his rental car around 7 p.m. Jan. 14 while eating at a Sweet Tomatoes restaurant in Orlando, Fla.."
When Jain came back to his car from the Italian buffet, no diamonds were to be found.
http://www.youtube.com/watch?v=FwHnkX-UNsE
Jain told the Sentinel that he did not see anyone following him when he pulled into the restaurant parking lot. He said that he will give a reward if the diamonds are recovered.
Let's hope the reward is more than a free buffet at Sweet Tomatoes.