It's really hard to not go on a rant about the news that JJ Abrams is directing the new Star Wars. The news is too old by this point to feel like anything but nerd rage. It's not the cross-pollination with Star Trek I mind as much as the fact that JJ Abrams just isn't a very good director (in my opinion at least).
Okay, as someone who has been firmly on the Star Wars side of the Great Nerd Divide for most of my life, the cross-pollination bothers me a lot too, but I'm way too old to justify that as a logical debate anymore and it was never Star Trek that I minded as much as Trekkies (yes, yes, Trekkers, sorry Melissa). So that's as much of my nerd rage that I'll vent for now.
Sundance 2013 concluded this weekend and by all accounts it was a successful festival. The big winner was the drama, Fruitvale, about Oscar Grant, a San Francisco man whose murder by a transit cop was caught on cellphone cameras, causing outrage in 2009. It took home the Grand Jury Prize and the Audience Award for domestic drama. Here are all of the Sundance Award Winners from the official site. (And Slamdance winners for the hell of it.)
But I've gotta say, the most exciting news is that Richard Linklatter's Before Midnight doesn't suck, or at least it got some good reviews that I'm judging entirely by their headlines.
More awards? Affleck's Argo won big at the PGA Awards last night. Tonight is the SAG Awards (it's on TNT as always). Will it win there? Seems unlikely, but who knows.
News, links, etc: 
-Kathryn Bigelow: Time Magazine cover girl. (Time)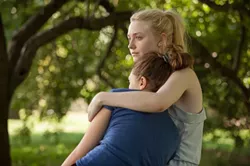 -Elizabeth Olsen and Dakota Fanning, BFFs? (The Daily Beast)
-Sister Rose Pacatte, nun and film critic for the National Catholic Reporter, visits Sundance. (NY Times)
-The original ending from an early draft of The Shining screenplay has been making the rounds courtesy of Pixar director Lee Unkrich. (The Overlook Hotel)
-More Gaby Hoffman? Yes, please. (Movieline)
-I agree with Steve Wozniak's embarrassment over the first clip from jOBS. Kutcher may vaguely look like Jobs but that's about all. (AV Club)
-Amanda Seyfried on Lovelace, Chloe, on screen nudity and Mean Girls. (IndieWire)
-On transforming the West Village in 2012 into the West Village in 1961 for the Coen's Inside Llewyn Wells. (Vulture)
-Quack, quack, quack, Mr. Duckworth. (Next Movie)
Short films:
-Voice Over, by Martin Rosete, about a stranded astronaut. (9:44) (i09)
Trailers, posters, etc:
-Abbas Kiarostami's Like Someone in Love, which I can't wait to finally see. (CriterionCast)
-Michel Gondry is back to his crazy self with Mood Indigo, starring Audrey Tautou. Hopefully Audrey Tautou is back as well. (IndieWire)
-A good trailer week is capped off by the new Coen Bros film, Inside Ll Davis. (Rolling Stone)